DIY
Bling Hairclip DIY with Mod Podge DM
Summer is in its full swing these days & monsoon season too.. After every rain there is lots of  humidity everyday.well how is yours summer going on? I enjoyed my vacations a lot with some family trips, eating & outing, so much fun.. but finally I am back, so let's enjoy crafting & here is my today's post,
I am using these hair clips during summer mostly, They are good in catching  hair tightly & nicely.. isn't it? So I am used to for these. But when I got this clip it was in plain black.. OMG.. how I can wear something simple? No Way.. I must be trying something colorful & shiny.. so here I did some easy effort,
Hairclip DIY with Mod Podge
Isn't is Nice & full of Bing? Glitter, Sequins & some shine..Love using glitter in crafting & yeah when the Mod Podge DM is always fun.
Things you will need to have are;
A hair clip, sequins, foam brush, & mod Podge sparkle.
And this one I have shared at my Instagram while making the tutorial & images..
The how-to; First you will cover the surface with mod podge & then fix the sequins carefully, you can make different designs.
When the clip will get totally dry (after an hour may be) pour some Dimensional Magic.. two coats.. but be sure you dry it totally, otherwise the milky color will still the same under the second coat.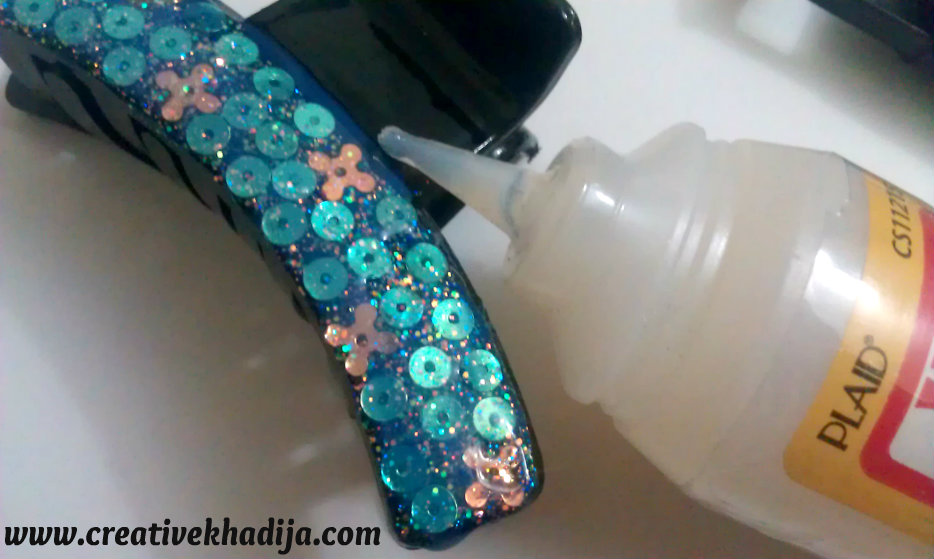 Here I apply the second coat. And after few hours, I wear it.. oh yeah its cool to wear some bling in your hair..
Give it a try & Enjoy.. I bet you will be having fun while crafting this sparkle clip.
Have a nice day ~Khadija