DIY
How to make colorful crepe paper flowers for decoration
Crepe paper flowers looks pretty as well as long lasting as compared to real flower, I made a few dozen of these flowers last month for decorating my craft room wall during the 5th Blogversary of Creative Khadija. Do you remember digit 5 I wrote on the wall with crepe paper flowers..? I bet you are having good memory :)
Today I will show you how I made these flowers. I know I am late in sharing as my blogversary was about 2 months back! Anyways Today you will see an easy idea on how to decorate your celebrations with crepe paper flowers & the same way you can try with tissue paper. For making these with tissue paper, but you will need to be more careful while separating layers of the paper!
How to make colorful crepe paper flowers for decoration
I were having many colors in my crepe paper folders but I choose Pink, Blue & yellow only.
You will need to have :
Crepe paper in any color- cut 8 sheets of 10″x8″
Scissors
Thread or Stapler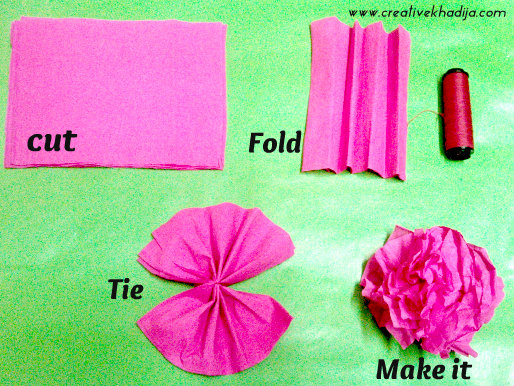 1- Cut the pieces carefully
2- Fold it & tie from the middle
3- Make a bow shape
4- Start separating each layer from the other carefully!
5- Roll in your hands to make a round shape. You can also cut some pieces to make a fine shape.
Here is the wall I decorated with these flowers. This picture reminds me of many fun moments..  What a wonderful day when I were celebrating my blog's birthday :)
I made this crepe paper flowers bouquet for my little niece who recently started talking & now point outing flowers wherever she saw. Kids seems even more cute when they started talking in broken tiny words and such sweet gestures.. So cute.. MashaAllah.
I made this vase decoupaged with paper, actually this was a chipped vase with a minute line which wasn't much visible though, So I cover the vase with paper flowers decoupage. I put some tissue paper flowers in the vase.
Here you can check more detailed tutorial of every step of flower making. Easy and beautiful. I add some glitter too.
I hope you enjoyed the tutorial. It's super easy & perfect activity for kids crafts. Be sure to make this kinda paper flowers with your kids. Make with them & then decorate their space with their creativity. They will be enjoying even more :)
I hope you will be enjoying :) Have a great day!
Khadija ~