DIY
Happy Friday & Updates from My Craft Table
Happy Friday Everyone!
I hope you will be having a good Friday with some fun weekend plans!
Today I am going to share some random updates from my craft space! I rarely capture clicks while working because mostly I have a messy table & lots of crafty dirt around, On the other hand its not easy to capture with "Paint full" hands.. Haha.. I am sure my crafty geeks can understand the situation well.
So here today you will see some sneak peeks of my craft table. I got water colors pallet at cheap rate from a stationary store recently, I was not planning to work on anything painting but the water color pallet was available at pretty cheap rate which force me to buy it & try something colorful! Not bad idea.. So here it is..
Happy Friday & Updates from My Craft Table
Smile, Because It's Sunnah..
I share these random updates from my work space at Instagram already. Are you following me there? Be sure to stay connected for my arty crafty random life updates!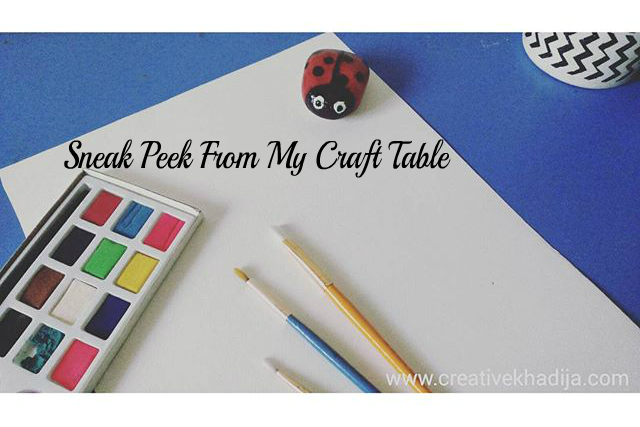 My craft Space! Pretty neat..! who knows?
Because my work table was neat before starting work! So not bad capturing a click before it gets messy!
As its summer season going on, So fans are mostly blowing my papers here and there, So I seriously need a Paper weight. Spot the Lady Bird pebble painted paper weight? I made it few days back but still not sure if I have its making images saved somewhere, If I will find any, I'll sure be sharing with you :)
For the love of Rose Flowers.. Isn't it pretty fresh?? Love it.. Captured during a rainy-cloudy day :)
I am planning to share something fall inspired .. Any guess whats upcoming? Let see.. Will be sharing soon!
Have a nice upcoming weekend, Enjoy your weekend! Stay blessed & happy!
Thanks
Khadija ~