DIY
How-To Paint Ladybug Stone-Rock-Pebble
Ladybug is one of the cutest bug ever, In fact it's my favorite bug as I have many childhood memories with ladybug & fireflies specially. When I were a kid, I played a lot with them.. I were used to collect these in a mason jar & it always makes me sad when they fly suddenly while playing with them. Anyways..
Today I will be sharing how to paint a stone-pebble & make a simple ladybug paper weight. It's pretty cute & easy. Anyone can try this simple DIY idea. So have a look how I painted this stones-rock & turned it into a ladybug paper weight.
How-To Paint Ladybug Stone-Rock-Pebble
Isn't it a little big in size? haha, Yes! it is.. because it's not alive actually. Pebble ladybird. A couple years back once I painted some pebbles & mod podged those, That was appreciated a lot by my dear readers & the article went viral. You can see HERE
You will need : Pebble, Acrylic paints, Mod Podge glue & DM
How To Paint Stones-Rocks
1- First I wash & dry the pebble, That was a plain off-white color oval shaped stone.
2- Draw the ladybug design with any pencil.
3- Apply the red color first, I used acrylic paints. Then fill black dots & area. In the last you will paint eyes of the ladybug.
4- Wait for at least 10 minutes then I applied mod podge on it. I used Mod Podge Dimensional Magic for the eyes 3D look.
Let it dry for a few minutes & this cute ladybug paperweight is ready to save your papers from slipping here & there specially when the ceiling fan is in full swing!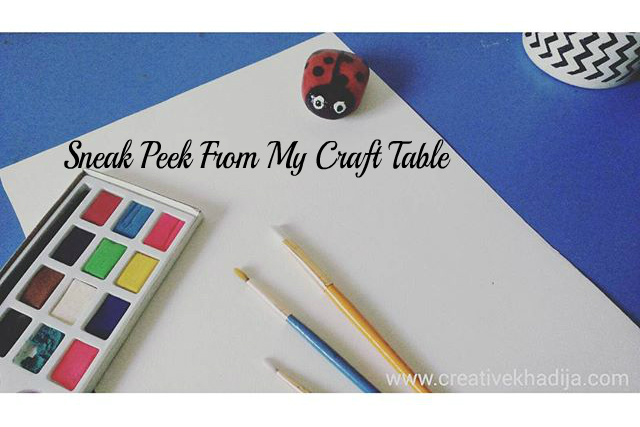 This ladybug always makes me smile while working at my craft space, in fact Someone is starring at me.. So I should work carefully! Right? haha. I love it.. This ladybug is among one of those few crafts which are my favorites. I hope you will like it too :)
Here is my previous hand-painted stones tutorial. I bet you can try this easy peasy idea as well. I place these on the shelf & it's looking fine there.
I always enjoy making drawings & doodles at ordinary objects, I have experimented a lot at my cell phone casing as well. Do you still remember my archives? My new people might interested in getting the tutorial how I design my phone casing, So here you can see the step by step tutorial.
Here is the other Clay paper weight I made last year, in fact its trash to treasure project. My homemade dough dried in the jar after a few months of making, So before throwing this out, I thought to design the lump of dough & made something cute with it
I enjoy reusing and recycling a lot, That's the reason I create stuff from totally ordinary thingies! I am glad you dear readers always appreciate my creations & enjoy buying from me :) You are always welcome!
Feel free to share the article & spread the DIY ideas with your friends.
Have a good day!
Khadija ~