After having an iPhone, now my cell phones is not much in use these days, so I have done something intricate with my cell casing, I always try something different with my cell casing,Have you remembered the other versions of my casing decoupage ?Have a look at my latest Design!
I have painted it & then mod podged it.. so simple & unique :)
First I apply folk art acrylic white paint on casing & then I use extreme glitter paint by plaid
then I start making doodles & designs with black ,the brush tip was very thin,so its easy & fine to make tiny designs! 
First of all you have to separate the cell casing from the set,I am used to for working with my casing as it is,but you must be careful otherwise the paint or glue can fix your casing with set permanent!dont blame me then!!
After completing the design,let it dry for 10 minutes & then apply mod podge sparkle for sealing the paints & for some shine too..
& its DONE ~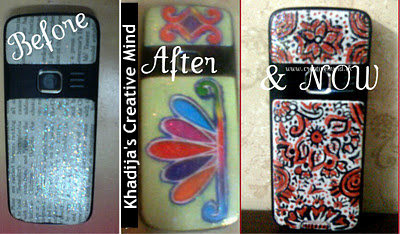 Lets see my previous versions of Cell Casing Designs :) I think the latest is better than all previous versions :)
You know what was the motivation for playing with paints? The super Plaid gift which I receive last month :)many paints & paint brushes.Thanks Jill & Etcetorize :)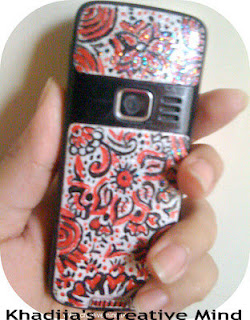 Enjoy the Sparkle :) in hand! I am adding my Sim in this phone for a few days! I want to show others what I have designed :) 
I hope you will enjoy my post ! Have a Nice Day