DIY
DIY Stones Design Art
Hello Everyone.
I share a random article about my sketchbook design & feel good to see my readers response, So I thought to design something with my freehand designs now. I found some pretty rocks/stones once, So it was the right time to try something!
So today here is my freehand doodle designs creativity with stones. Once I seal some stones with Mod Podge gloss, Here I am designing the same stones again!
Actually my inspiration were some stones/rocks covered with crochet and looking so neat..As I am not good in crochet, So I were unable to try it..So I made these..Check what I have DONE…
DIY Stones Design Art
So I start working on making doodles on stones which can be similar to crochet designs..its not looking exactly like crochet covered but I tried my level best to make something artistic..

If I will be making thick designs then stone base color will not be visible..I like stones grey color :)
You will need..
Stones/rocks in good shape
Fluid marker or paint brush
Modpodge gloss
*A hand who love making doodles :) 
I take a fluid pen & start doodling on stones..they are already having glossy look.because I already gave them gloss a few months back :)
What do you think now..is it OK..?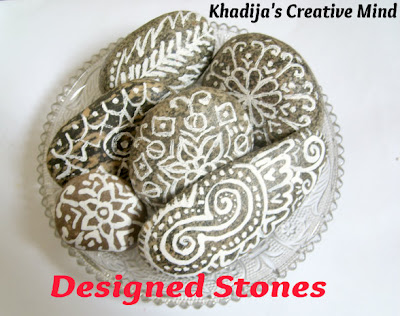 Now you can try this simple idea for any home decore project..and it will be looking good in a glass bowl or plate at any table or shelf..
I hope you will like it..give it a try & Enjoy :)
Isn't it easy & simple idea? You can also have a look at my Mod Podge crafts Tutorial.
I hope you will enjoy trying this idea.
Thank You..
Khadija ~