DIY
How To Make Corn Husk Flowers Bouquet for Fall
Handmade Flowers making is always an interesting idea! I enjoy making handmade flowers & sharing step by step tutorials with my readers, Isn't it fun creating beautiful stuff from something ordinary? So here today I am going to share a creative idea for making handmade flowers. Something from trash to treasure!
As fall season is going on beautifully & winter is almost here, So I thought to make something according to it. I made corn husk flowers. They are super easy yet perfect for fall decore. I saw fall wreaths on Pinterest decorated with corn husk. It suddenly inspire me to try something with corn husk. So here it is my corn husk flowers tutorial. I hope you will enjoy the idea.
Have a look here for the details :
How To Make Corn Husk Flowers Bouquet for Fall
How is this floral bouquet made with corn husk leaves? I don't like the green bottle though but I have to put these in this bottle as I were having this only bottle in my craft room! Well may be I can get a better vase for putting these into it.
For making these corn husk flowers, You will need these supplies :
Corn Husk- Dry or Fresh
Scissor & Thread
Floral Tape
Sticks
Hot glue gun
I get some fresh corns from market & separate their husk leaves. I dry those outside in the back yard for a day or two.. When they turned a bit crispy dry, Then I separate each layer of husk & started working on! Here at this stage you will need to have scissor & thread only.
Turn the husk smoothly & make 4 petal this way. Join 4 or 5 husk petals & wrap a thread tightly around to make a flower shape. Don't worry if any petal is big & any other is small, You can tear the husk petal even when it's arranged.
As the flowers are ready, You will have to crop some stems, Don't crop much, because these husk flower stems are necessary while fixing on the stick.
When I cut the peacopck feathers from this stick, These long feather sticks were useless totally, I was about to throw these but I keep these in my crafty junk FOR NO REASON but now I got the reason after using these here in arranging with these flowers.
I used hot glue gun for fixing the husk flowers of sticks, Then I crop the flower ends again. And in above image you can see the before & after image of using floral tape. I got the same color floral tape & wrapped the flower ends under the floral tape. You can see the difference above!
Don't throw the corn threads, I made bolls out of these & put these inside the flower petals as the middle part of flower. I used transparent glue to fix these in the middle. Then sprinkle some golden glitter there. Here you can see some husk twisted leafs, I fix these later with hot glue gun actually but if I decide this earlier, I might fix it while taping the floral tape.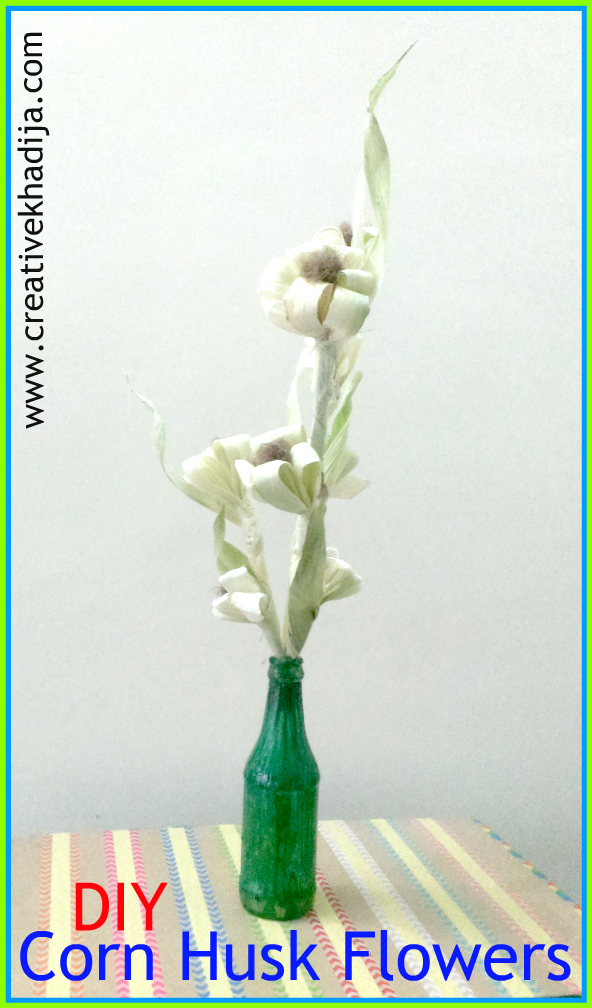 It's ready, I wonder how light weight these are.. You can even paste these with any wall with double tape. But I prefer keeping these in a bottle.
Wait.. Any guess what surface is this where the bottle is placed in above picture? Stay connected to see another fun idea in my upcoming DIY article.. I hope you will like that too :)
When they were done, I put these on my craft table with the help of designed stones (
See Tutorial of these designed stones

HERE )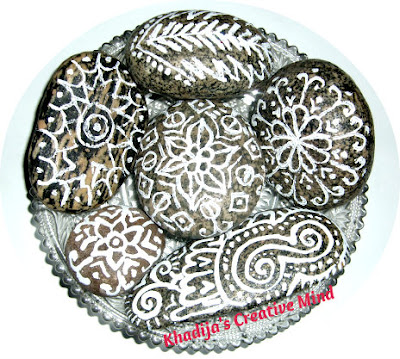 I hope you will like my DIY ideas from archives!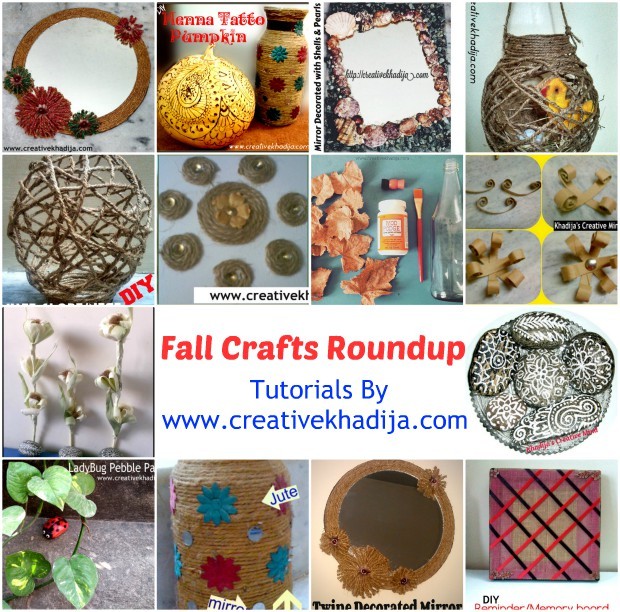 Fall Crafts & Tutorials By Creative Khadija
Be sure to use the SHARE button to spread this idea at social media networks :) I will be thankful to you!
Have a great day,
Khadija ~