Hey All, I am happy to see my dear reader's response at my random blog articles, I am sharing random useful stuff these days instead of just arts & crafts tutorials. Today I am going to share a healthy & yummy Recipe with my sweet readers. Wait, what? I said sweet! So here it is a sweet recipe for you. As Pakistani food & Recipes are very popular worldwide, I always get double response & post reach at my social media networks whenever I share any Pakistani Recipe there. So I thought to share one with you on the blog.
A few days back, I were drinking green tea & having gossip with my friend Amy, She asked me why green tea? I said I am on diet because I ate something rich in calories today. While discussing ingredients & recipe, She suggest me to blog this recipe. So here today this recipe is live on the blog specially for Amy <3 I hope my other readers will also be enjoying this healthy & sweet recipe. Have a look what I made.
How To Make Coconut Panjeeri-Healthy Sweet Recipe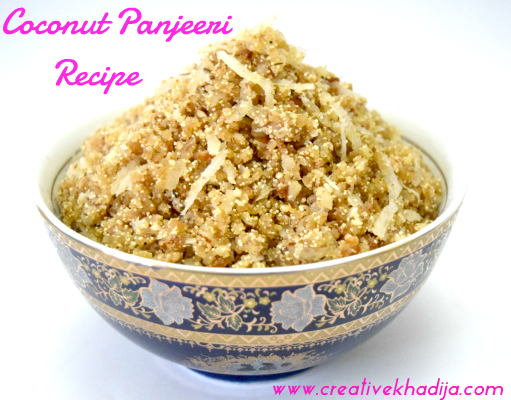 Seems delicious? Indeed it is tasty. Very rich nutritional value as well as calories!
Coconut Panjeeri helps kids & adults in gaining weight. It improves eye sight as well as headaches. It keeps the body warm during freezing cold winter season. As it contains lots of butter & sugar so this might not be fine for those who are diabetic or cholesterol/cardiac patients. This is perfect for growing up children & youngsters.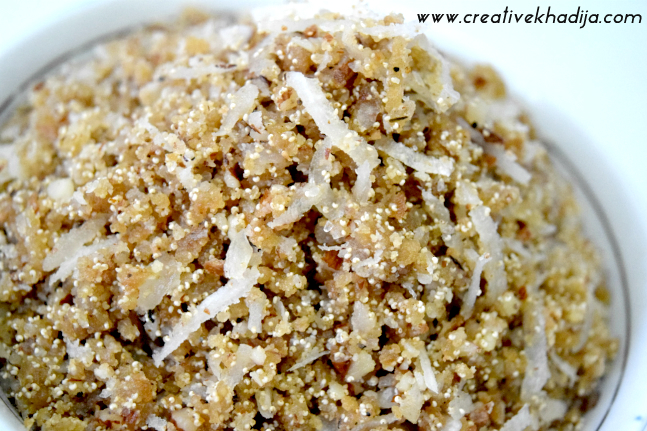 You can see lots of poppy seeds here :) I love any recipe with poppy seeds, Don't you?
You will need to have these ingredients for making this coconut panjeeri.
Ingredients :
Raw Coconut (without breaking, whole inner ball) – 1
Poppy Seeds – 200gm
Sugar – 200gm
Melted Butter-Ghee – 250gm
Wheat flour – 500 kg
Almonds – 100 gm
Making :
First of all, Drain the coconut water by making a small hole at upper side of coconut. Fill it with poppy seeds & close the hole of coconut with wheat flour dough. Now cover the coconut with dough layer of about half inches thick all sides. Boil the butter in a deep frying pan. Place the coconut carefully in the pan & start cooking & frying the coconut wheat skin. Flame should be medium but not slow. Move it slowly so all of its sides are cooked equally. When it turns into a dark brown color then off the flame. It should be brought out of the frying pan carefully. This frying process will take almost half an hour.
Next Step –
When It's temperature becomes normal its wheat flour dough may be separated. Peel off the dough skin. Chop the dough,  sugar, almonds & coconut to make a thick powder form as you can see in the image above. Mix the remaining melted butter in it until it gets smooth.
Keep this Panjeeri at a cool dry place in an air tight jar. It can last for almost a week. You can keep it in the fridge if you want to keep it for 10 days.
3-4 table spoons of this panjeeri is enough. Don't fill a big bowl with panjeeri for eating at one time.
I fill this bowl for capturing a good click in it. Otherwise don't take a big bowl of this at one time, Excess is not good.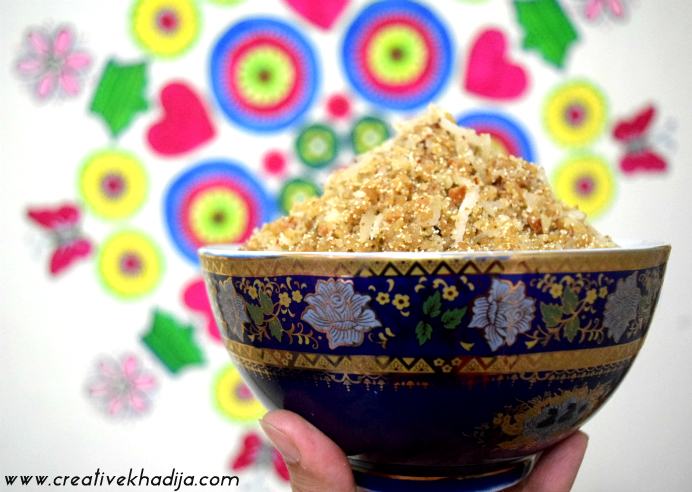 I like this panjeeri specially because I have a jar of panjeeri in my craftroom as well. I used to take it with afternoon tea. A perfect meal for a person like me who is careful about diet, I eat less but healthy. That's the reason I am perfect Alhamdulillah :)
How To Make Coconut Panjeeri-Healthy Sweet Recipe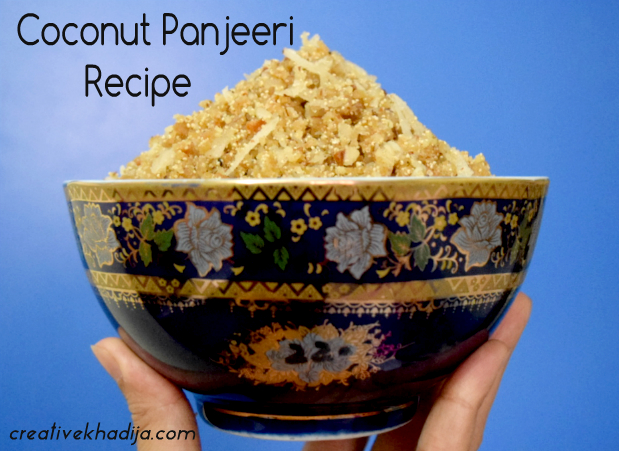 I hope you will like this recipe post by me. As I am not into recipe posts & sharing, So I am not sure how to explain well. If you are confused about any step, feel free to ask. I will try my best next time to share steps of the making but to be very honest, I concentrate at work & forget consciously about capturing images! You will never see me sharing food at my social media etc, just because I am too much involved in eating instead of capturing the food. Haha, Sorry but not sorry :)
Let me know if you liked the post. So this will motivate me to share more recipes & food related posts.
Have a great day! Be sure to share the article with your friends by using the social share buttons at sidebar & below the article.
Thanks
Khadija ~