Mehndi designs
41+ Best Mehndi Designs for Eid
I have compiled a collection of 41+ Best Mehndi Designs for Eid that you will love to have done on your hands.
Finding the best mehndi designs for Eid can be challenging if you are as picky as me. I personally love intricate henna designing, so it takes me a while before I finalize a design for myself. Eid is all about fun, celebration, dressing up, and enjoying with your loved ones. What puts me in the spirit of Eid is when my hands are decorated with beautiful patterns of henna. I know this is the case for most of you ladies out there as well. This is exactly why like every year, I have compiled a collection of 41+ Best Mehndi Designs for Eid that you will love to have done on your hands. Continue reading to check out some interesting henna patterns.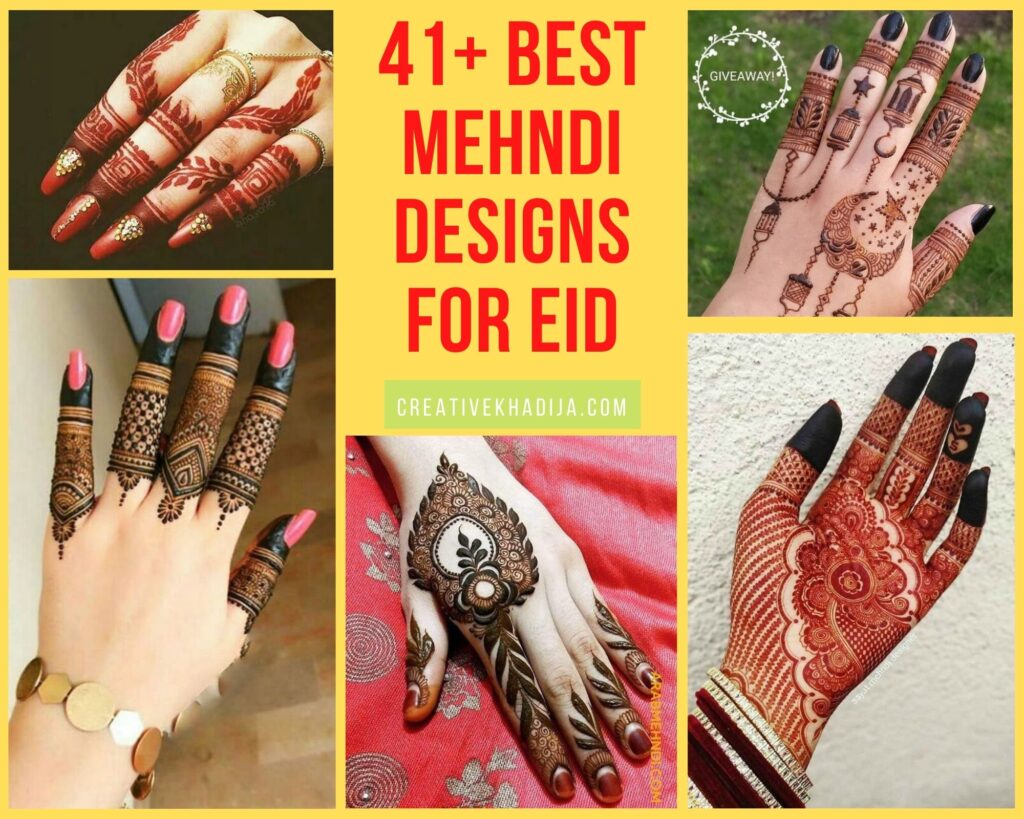 Mehndi Designs for Fingers
A lot of people are into detailed mehndi designing on their fingers only. As the henna patterns on the fingers give a much neater look. Plus with a perfect manicure and nail paint, it looks extra gorgeous. So, if you are into alluring mehndi designs for fingers, keep scrolling. My Mehndi Designs for Eid 2020 is an article you should have a look at.
Indeed a very elegant leafy vine style pattern for the fingers to give them an elongated look.
For the love of swirly floral patterns, be your own henna artist to create this easy design.
Something very intricate for a person of refined taste.
How gorgeous this design looks with perfectly manicured fingers?
Fancy traditional henna designing? Try this pattern then.
For ladies who love heavily done mehndi designs, this is ideal.
Only an expert henna artist can create something as beautiful as this.
Pair this filled-in mehndi design with dark colored nail polish to make it pop out even more.
What a gorgeously detailed henna pattern is this?
As effort requiring as this design might be, but the end result is going to be worth all the effort.
This simple henna pattern looks like you are wearing midi rings.
Something simple yet elegant to try out this Eid.
One of the best mehndi designs for Eid that you can get done on your hands.
Mehndi Designs for Eid
Nothing looks more gorgeous on Eid than hands filled with perfectly done henna designs. You can make your hands look even prettier with bangles, rings, and nail paint. If you are tired of the old mehndi designs for hands and want to have some unique patterns created on your hands. Then have a look at these very attractive henna patterns. Check out my article on 75+ Mehndi Henna Designs for Girls.
How unique is this Eid inspired moon, star, and lantern style henna design?
A simple yet elegant mehndi designs for Eid that is excellent for smaller hands.
Among perfect mehndi designs for hands for ladies who are drawn towards thin, intricate patterns.
This intriguing henna design is not challenging at all for a Mehndi expert.
This peacock feathers inspired design looks very feminine.
Looking for getting henna tattoo designs on hands that are simple yet detailed? Then you are surely going to like this design.
Spark the henna artist hidden inside you and try creating this beautiful mehndi pattern.
Neat and simpler henna designs look the most fabulous.
Mehndi designing is fun if you get to create such chic mehndi patterns.
How alluring is this paisley mehndi design to decorate your hands with?
A complex mehndi design that can only be created by an expert, but looks mind blowing.
A very extravagant henna design for an artistic lady.
Only the most stable hands can create such an attractive mehndi design with careful strokes.
Bridal Mehndi Designs for Hands
Bridal Mehndi looks best when created by a professional henna artist. However, if you have knowledge of creating henna designs and have an artistic side. You can create pretty bridal designs with henna cone for yourself and for your loved ones on their special day. Check for some Beautiful Mehndi Designs inspirations. Here are some very pretty bridal mehndi designs that you can apply for your big day.
Now which bride won't love having this intricate mehndi design created on her hands?
With a little color and pearl stickers, you can make your mehndi design pop out even more.
What a detailed and alluring design for a pretty bride.
How lovely does bridal henna look with heavy hand jewelry and accessories?
Another very detailed henna designing to make your hands look even more eye-catching.
If you are into jaal style full hand covering designs, you are going to love this pattern.
This design is not only perfect for brides, but will also make one of the best mehndi designs for Eid.
An irresistible mehndi design like this can only be crafted by expert hands.
A chic and dainty design to decorate your hand for your wedding day.
Bridal Mehndi for Feet
How can you forget feet henna tattoos when you are talking about bridal mehndi? Personally, I think nothing looks more fashionable and chic than a nicely done feet henna art. If you love applying mehndi to your feet or are looking for feet bridal mehndi inspirations, you are surely going to appreciate this mehndi designs collection.
This anklet style design is very attractive.
Mandala mehndi designs look magnificent whether you create them on hands, feet, or any other body part.
How gorgeous and fine is this side feet bail style henna design?
How lovely do feet bridal henna look with heavy anklets?
A challenging design to perfect, but the end result is worth all the hard work.
Detailed bail mehndi designs for Eid and for weddings look amazing.
Only a master henna artist can create such aesthetically pleasing design.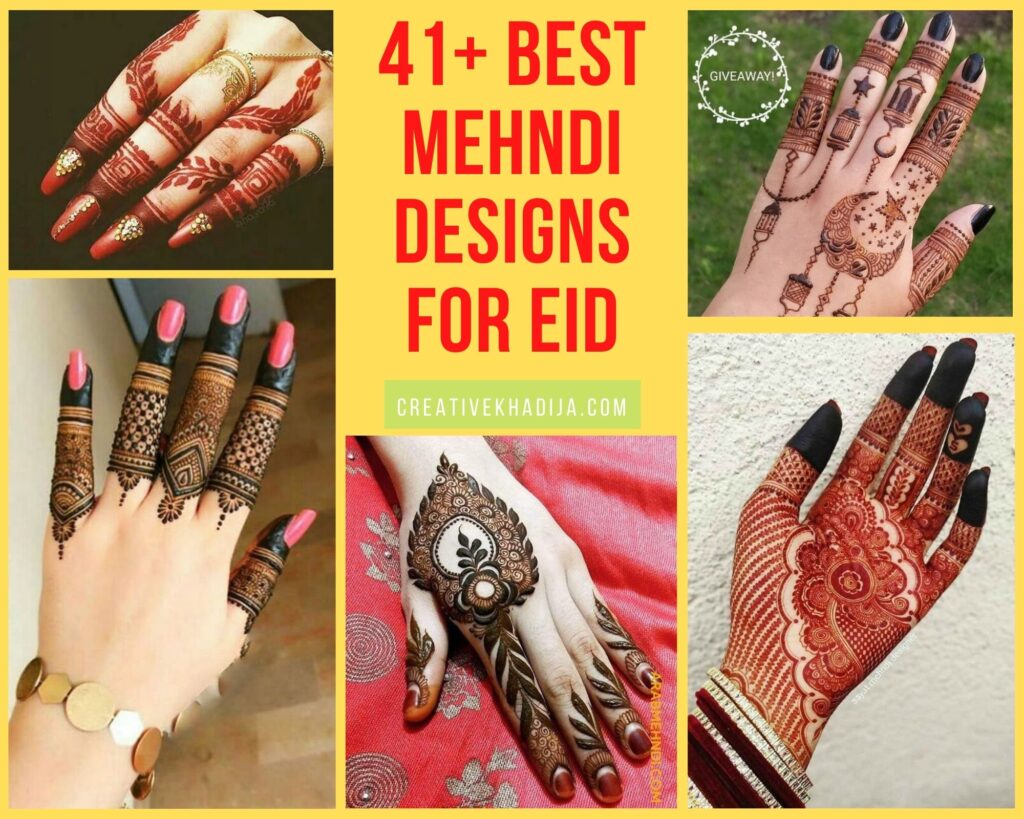 Note: These images are sourced from Pinterest and all the credit for the beautiful henna work goes to their respective creators.
I hope you enjoyed reading today's article on 41+ Best Mehndi Designs for Eid. Let me know in the comments what type of mehndi styles and design are you into? Do you prefer heavier mehndi designs for hands or like the minimal done ones? Will love to read your comments.
For more mehndi ideas, check my article on 41 Mehndi Designs to Try this Year. Also, follow me on Facebook and Instagram to stay updated on my latest blog posts.
Have a blessed Ramadan <3 Remember me in your prayers!
Khadija