Happy Friday-Juma Mubarak dear friends. A happy ending of a wonderful week Alhamdulillah. I hope your week went pretty nice as well. My whole week was super busy while dealing some clients and blogging, Specially spotlightimg my sponsor's articles. It was fun, thanks dear readers for supporting my great sponsors. I enjoyed all the tasks of this week. If you are following my social media networks, You might already know my this week's crafty mess. I changed my craftroom setting & decore. Nothing compares to a freshly painted room as it smells so good. Isn't it? You might laugh but I like it seriously. Well I know some people who are allergic to the paint smell as well.
Anyways, let's talk about some happy Friday vibes. What a blessed day it is. I am going to share a really beautiful Hadees today!
Hadees Of The Day-Sincerity of intentions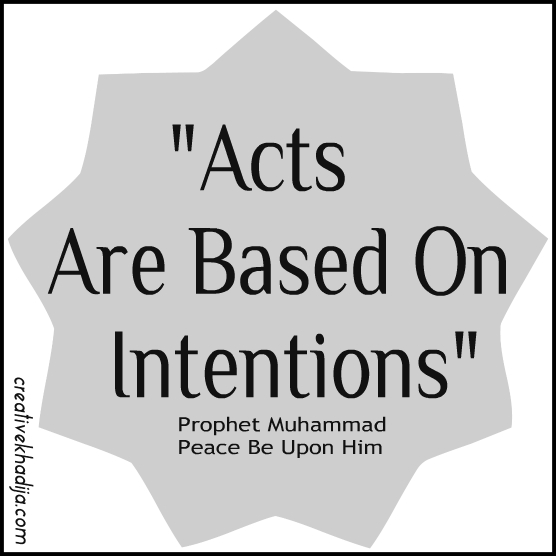 On the authority of Omar bin Al-Khattab, who said : I heard the messenger of Allah Sallallahu Alaihi Wasallam say : "Acts are based on intentions".
Inna mal aamalo binn niyaat There are two kind of intentions, Good & bad. Whatever we used to act, It's implementation of our intentions. It simply shows what we are inside. Our intentions are making us a good person or bad.
For example, If we help someone with good intention, that will be accepted & we will be rewarded by the Allah Almighty but if we will be keeping our bad intentions while helping someone, that good act of helping someone will be going useless. If you want to be rewarded & blessed for your good deeds, be sure to keep your intentions good and positive towards everything, everyone & in every situation. Because God is Almighty & He knows whatever we are hiding inside or we are showing. So be sure to stay positive and sincere towards your intentions. Whatever we will be getting from the Almighty, its upon our intentions. If our intentions are good we will be rewarded for sure.
Today's holy verse of the day is based on a simple yet basic thing. I am sure me & my dear readers will start working on improving ourselves. This will be helping us both in getting positive & happy vibes. InshaAllah. Thank you for reading the article.
Have a blessed Friday.
Thank You ~
Khadija