Do you like photo booth & party props? I do. They can simply spice up a boring event with some fun & laughter. This can also make your photography clicks more interesting! I hope you are agree with me. A few days back one of my friend contact me & asked if I can make some wedding props for her cousin's wedding. We discussed some fun dialogues for writing on the props from different movies & political leaders funny quotes & finalize some cool dialogues! It was so fun working on these wedding props. Today I will let you know how to make wedding or party props at home.
Lifestyle trends are changing everyday, Specially now social media and technology is taking over in every field of life. Life was different few years back. I don't remember any wedding ceremony from my childhood when youngsters were making selfies & updating at social media on the spot. Today it's going differently & even with more fun! Do you remember any wedding during your childhood when you were holding wedding props or photo booths? Definitely NO.. This is a new trend we just caught by during last 5-6 years I guess! But it looks cute & funny! Let's see my today's DIY idea.
How To Make Wedding or Party Props At Home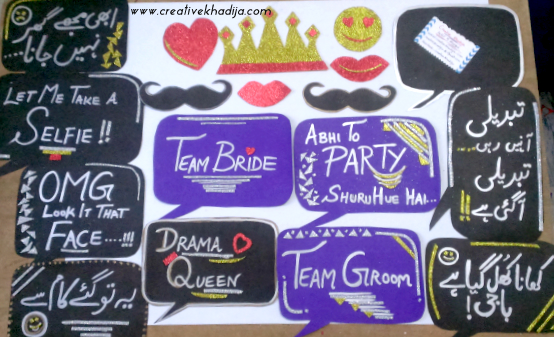 I have done more than a dozen wedding party props. Theme selected was speech bubble & text was something funny! Some dialogues are in Urdu language & some are in English. I made some emoji with glitter sheet.
Have a look at details now.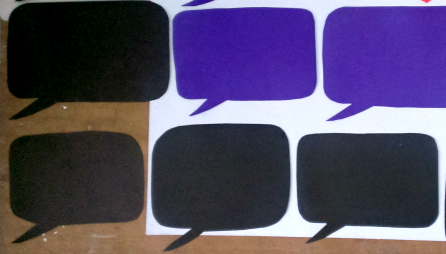 First of all I cut some card sheets in two colors. Purple & black. Then I made a speech bubble template & used that for cutting other cards.
Cut the shapes & then outline those with any glitter marker. I cut some glitter sheet strips & pasted these with glue on the sheets. I cut squares, triangles and strips too.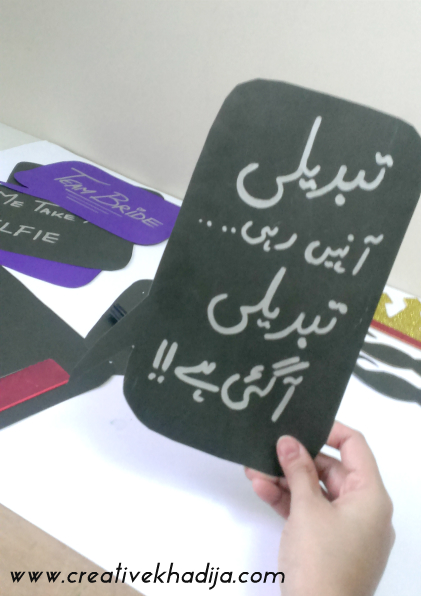 First of all I wrote text on the cards & then decorated these with glitter foamic sheet cuttings. Decorate according to the writing.
This above text is a dialogue of political party leader which went funny & viral.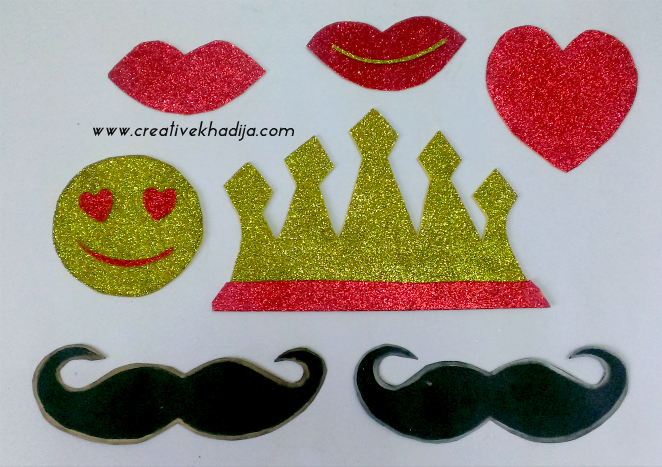 These mustaches are so cool. I made golden & silver outline of both to make it more funky! I am glad my friend liked these a lot.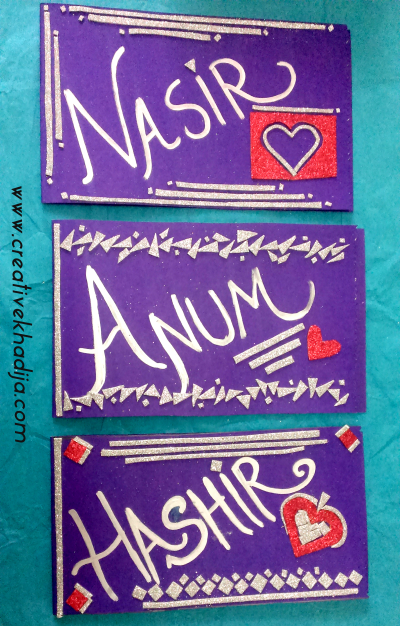 As my fingers were already in glue & glitter, So I thought to make some cards too for my lovely nephews & niece. I made some cards for my nephew & nieces as well. They liked their cards a lot. My sister told me they saw their cards in the morning before going to school & then right after coming from school. Haha! This excitement is so cute!It's just because their auntie made these! otherwise I am used to send them cards at their birthdays & They are not as much excited before. It was first time I sent these handmade cards to them & they kids were so happy! So I decided to make some for them in future too.
Do you like these? Do you want some party props for any of upcoming wedding in your family or friend's circle? You can now buy customized wedding or party props from me! Visit my shop HERE & drop me an email with details. I would like to make some colorful props according to your party.
I hope you will like these. You can also have a look at my other Paper Crafts & Handmade Cards.
Have a good day!
Khadija