Card Making
How To Remove Minor Stains From Paper Cards and Crafts
Do you like making handmade cards for your dear ones? I love card making for my friends & family. If you are into paper crafting, My today's blog post is for you. While paper crafting we usually make mess with paper surface sometimes. Last week I was working on a handmade card for one of my dear friend. I fill it with designs & decoration while didn't notice what I have done with Index page & last page which was plain. I might share the complete card in my upcoming posts. Today I will share How To Remove Minor Stains From Paper Cards and Crafts while paper crafting. Let's see.
How To Remove Minor Stains From Paper Cards and Crafts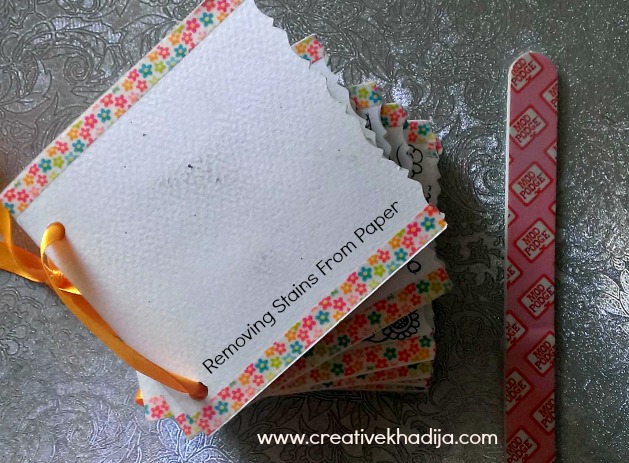 Check this is what I did. I didn't notice what I'hv done to the first page of the card while designing inside pages. Some minor stains were visible clearly.
Let's see how I removed the stains easily.
You will need a zero sand paper or stick. My card sheet was thick material & textured. So I smoothly rub sand paper on it & the stain is no more visible now!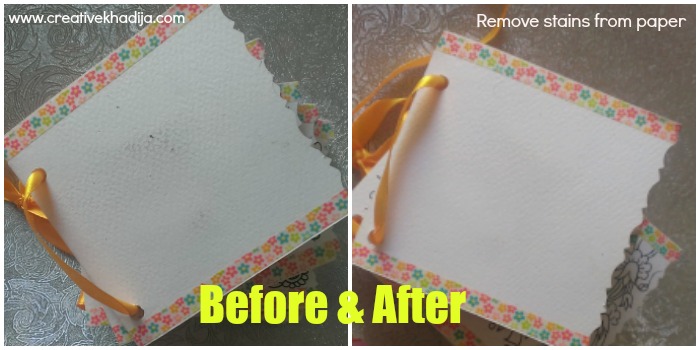 I was busy in designing card inside & forgot about outer side, This is not happening to me first time, I usually did this while paper crafting. I should be more careful. After making the card, In the end when I saw front page it was not looking well. So this is how I simply removed the minor stain with zero sand paper stick.
I have completed the card & I can't wait to show you inside designs. I hope you will find this quick hack useful.
You can also let me know if you want to buy any handmade card. I will happily be making for my clients as well.
I hope you will enjoy this quick hack. Remove Minor Stains From Paper Cards and Crafts is not a big deal anymore.
But remember, This trick is not useful if your material surface is thin or soft.
Have a great day!
Khadija ~