Guest Post
Get Quality Wood Flooring for Less with DWF
There's a lot of wood flooring trends to keep up with recently. From the grey colour craze to the rise in parquet, we can't get enough of wood flooring. Perhaps it's due to the ease to maintain or the array of unique designs available to choose from. Or it could be that retailers like Direct Wood Flooring are selling luxury flooring ranges at incredibly low prices – heightening the trend by making quality wood flooring affordable for all home budgets.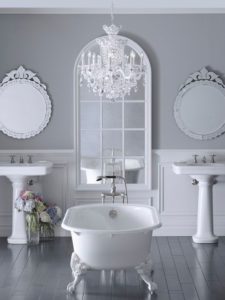 Whether you go for hardwood imitation with laminate and luxury vinyl tiles or the premium solid wood and engineered ranges, you can save a fortune with Direct Wood Floorings price match guarantee. If you find the same flooring cheaper on another site, they will match it and knock off a further 10% – Fabulous!
On with the savings, so this luxury bathroom design is amazing with the light to the dark contrast setting the ambience of the room. Luxury Vinyl Tiles (LVT) are perfect for bathrooms as they are both heat and water resistant, meaning you don't have to worry about those little splashes or fluctuating temperatures. LVT offers great slip resistance too, especially the slightly embossed designs as the texture prevents sliding – a perfect alternative to wood flooring. At a reasonable price range, they won't break the bank to get them in your home either. A self-installation could save you a fortune in fitting costs too.
Get Quality Wood Flooring for Less with DWF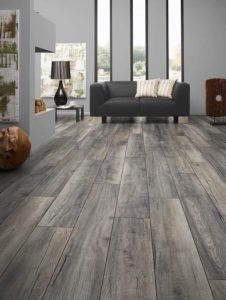 Oak grey laminate is great for those shopping on a budget. Manufactured from a high-density fibreboard and covered in a hyper-realistic decorative layer, a laminate is capable of copying premium hardwood or modern tiled designs to a fantastic standard. Bringing you luxury flooring designs at affordable prices. This grey and beige multitoned wood flooring are right on trend for modern styling. It's not to be overlooked for traditionalists either, the neutral tones and authentic knots and grains make it suitable for the majority of home stylings.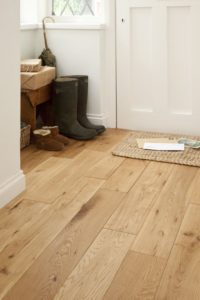 Nothing quite makes a statement like solid oak wood flooring. The robust construction is a supreme display of quality whilst the amazing aesthetics resonate luxury. The beautiful warm tones in this porch area make perfect sense for a busy family home too. The light colouring is great for disguising those little marks we tend to accumulate in high traffic areas – of course, there are easy repair methods (once we get time to do them) but until then they can be well hidden with light tones. The build of solid wood flooring means it is capable of withstanding the pressures of a heavy footfall far better than any other flooring range, with a longer life expectancy too.Seen more as an investment, solid wood flooring has also been known to add value to your home.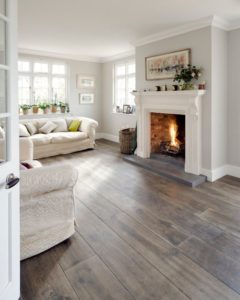 Engineered wood flooring is great for those with underfloor heating as it is less susceptible to the effects of heat and moisture. The multi-layer construction means the wood has room to expand, unlike its solid alternative.Whilst engineered wood is priced lower, thanks to a solid wood veneer (top layer), it is virtually impossible to tell the two flooring types apart.Take a look at this stunning living room design, could you tell this not solid wood flooring?
P.S- This submitted guest post contains affiliates links. Thank You for your support.