Guest Post
How to Pick the Perfect Jewelry for Your Wedding Day
When planning their wedding, jewelry isn't always the number one priority on the bride's checklist. Those first few spots are reserved for the wedding dress, the venue, the photographer, the band or the guest list. But that is a huge mistake, as picking out the perfect jewelry can help accent your perfect wedding dress. Similarly, inappropriate jewelry can really ruin your look, and you don't want that feeling of regret every time you look at your wedding photos.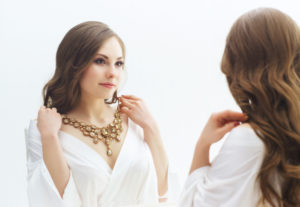 The expenses for any wedding are often high enough without having to buy luxurious, expensive jewellery. That's true. However, the jewellery does not have to be expensive. You can pick out the perfect jewellery on a budget. The important thing is knowing how to pair the jewellery with that gorgeous engagement ring.
Here are some ideas on how to pick out the perfect jewelry for your big day.
Something Old and Something New
If you have a knack for vintage jewelry you have to look no further than your family heirloom. The old jewelry your mom or grandma wore will help you get that vintage look and at the same time carry an emotional value. Perhaps you can dig out an old pearl string you can accent your wedding dress with. The best thing about family jewels is that they come completely free.
Pick out the Pieces You Like
You don't have to clad yourself in diamonds. There's a reason why these precious gemstones are used in wedding rings, Because of that very same reason they should get all the spotlight. Let the one diamond that matters shine on your ring and pair it with simple yet elegant pieces. Avoid layering jewelry as it can take away from the appeal of your dress. Apart from that, try to pick out the jewelry you are more likely to wear even after the big day is over.
Match the Jewelry to the Dress
Your jewelry should represent who you are, but it should also go in harmony with your wedding dress. When choosing the jewelry, that old saying "less is more" is most often true. You want your look to be natural, not riddled with gemstones. Therefore, you should avoid pairing a wedding dress with a lot of ornaments with a flashy necklace.
If you plan on wearing a short-sleeved dress, you can pair it with a bracelet. Strapless dresses go perfectly with chandelier earrings, while a pendant or a choker will complement your neck if you wear a V-neck dress. Determine what your focal piece will be and then try to tone down everything else, otherwise, you risk looking like a walking jewelry stand.
Don't Cut Corners
The reason I said you should pick out the jewelry you are going to wear after the wedding day is that you shouldn't skimp on jewelry. After all, quality lasts a lifetime. Long after the cake is eaten and the music has stopped you'll still have your wedding day jewelry to remind you of how happy you felt. Choose the pieces you will be comfortable wearing or even passing on to your daughter on her wedding day. That's a full circle right there.
P.S – This guest post contains an affiliate link. Thank you for your support.