DIY
Kids Halloween Crafts DIY Ghost Mask
Hello crafty girls, I hope you are having a great day! Do you enjoy celebrating Halloween Day? I do not celebrate it as it's not a holiday here in Pakistan but sometimes I make crafts related to it. As most of my blog readers are from the countries where it's a holiday & always celebrated. I think it's not bad trying some fun craft & sharing my idea. Right? This year I tried something with my little niece who started her school recently. She likes paper crafting at her school & with me too. So we both tried Kids Halloween Crafts DIY Ghost Mask Making. Have a look here
Kids Halloween Crafts DIY Ghost Mask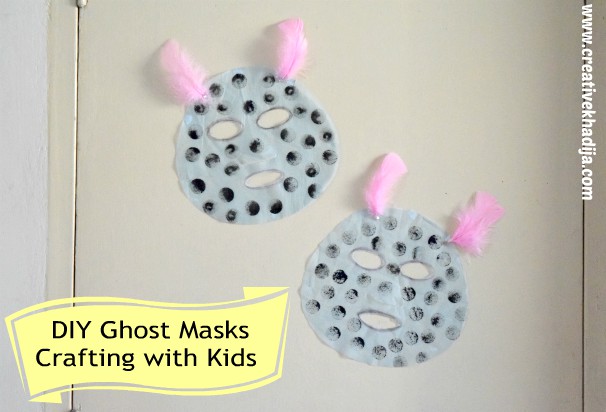 This is what me & my niece made together. Super easy & quick craft idea. After making this, I have pasted the mask on the door inside, though it should be outside somewhere but as it's not a holiday here in Pakistan or even known by random people so I am keeping this inside.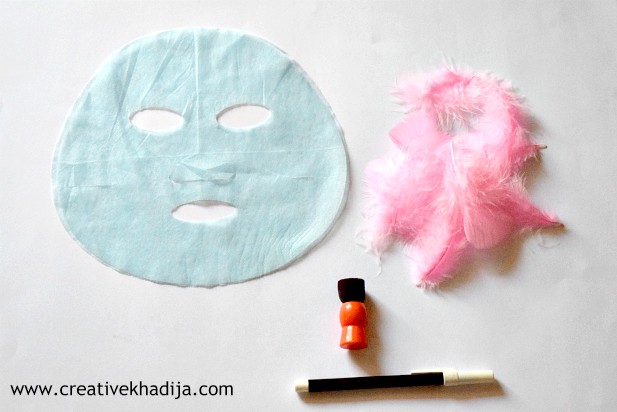 Before explaining these craft supplies, let me tell you a fun thing!
These days skin care sheet masks are very trendy & useful. I've received some face dehyderation masks from Garnier? I used those tissue masks while these were the sheets to protect them from sticking together. I was looking like a ghost while applying the facemasks. I know everyone looks horrible for 15 minutes with these skin care facemasks until you remove it. So there an idea came into my mind. I saved this mask sheet covers for trying out something related Halloween! So let's try out the thing now!
You will need :
Any mask shape fabric or paper sheet.
Black acrylic or poster paint.
Foam brush in any shape.
Feathers & rhinestones.
Glue.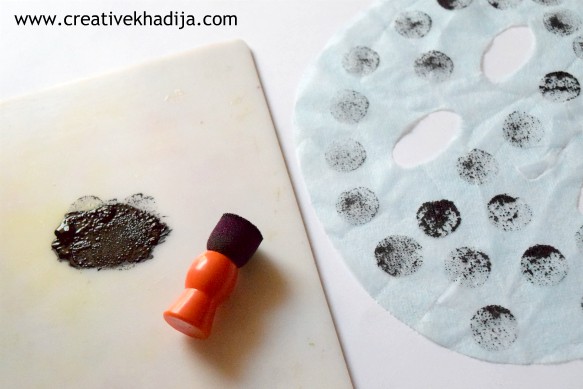 Just drop a table spoon of paint on the pallete& stamp it on the mask sheet.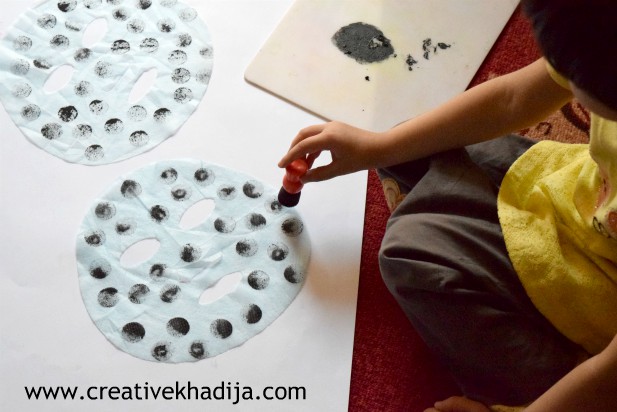 My niece enjoyed this part. It's so easy & no need to follow any pattern. Just use it anywhere on the mask sheet.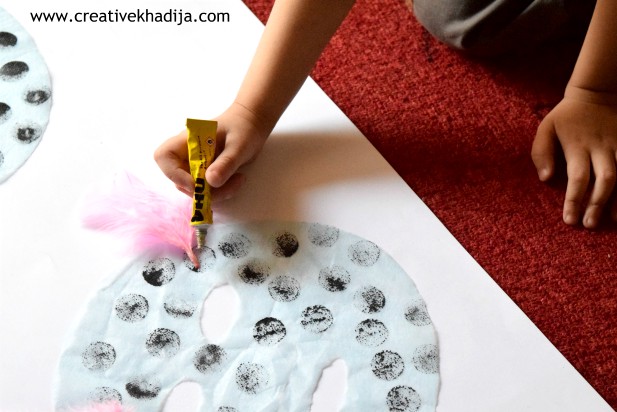 Here I am going to make the masks some fancy with a touch of feather horns. As the mask sheet is soft, so better something soft & lightweight should be applied on it. Use any transparent glue to fix a horn.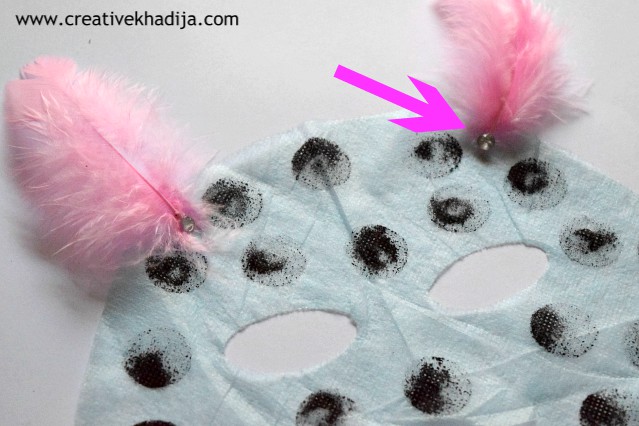 Let's fix a teeny tiny rhinestones too. Ta-Da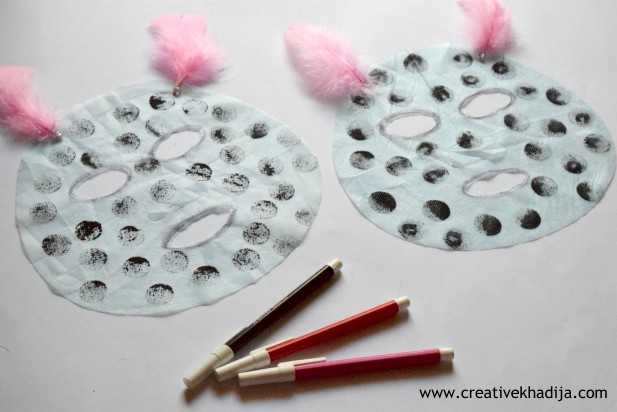 Eyes & lips part was not prominent so I did it with some red outlines.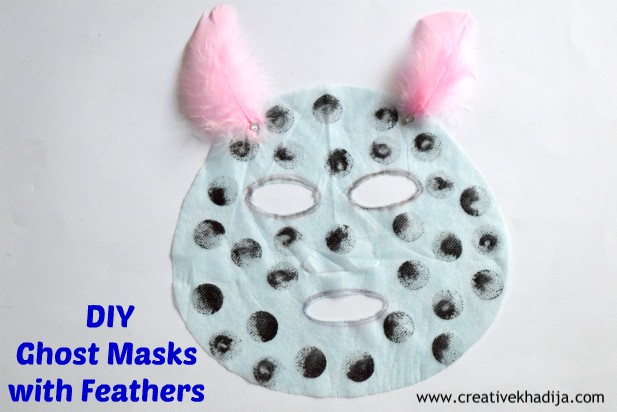 Here is the ghost face mask ready! Isn't it an easy way to craft something with kids? Not a mess of crafts supplies. A very few supplies with quick craft idea.
You can make Kids Halloween DIY Ghost Mask with different supplies and embellishment. I hope not only you but kids will also be enjoying the activity!
Have a look at this another last-minute Halloween craft idea.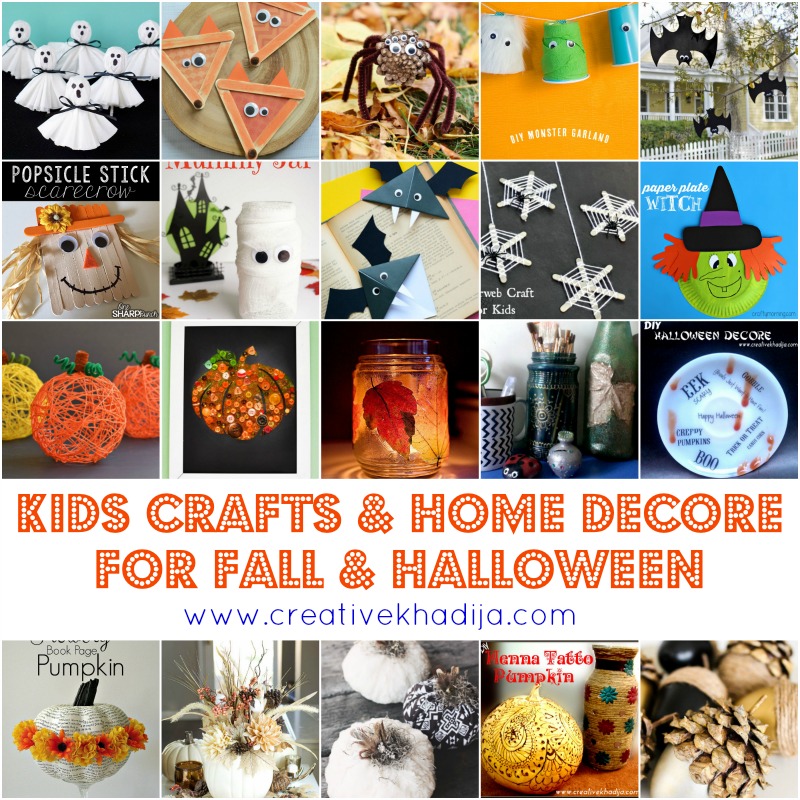 Be sure to have a look at these creative collections related Halloween crafts & ideas.
Have a great day! Let me know if you have any question :)
Thank You.
Khadija