Guest Post
5 Useful Tips to Learning about Calligraphy
Learning calligraphy is a beautiful hobby. If you're curious about the craft and want to learn more about it, you've come to the right place. This article will be helpful for people who are just starting out with calligraphy and want to get in touch with the basics. Here are 5 tips on how to do calligraphy for beginners.
Buy a starter kit
Actually, you don't really need an actual kit to start doing calligraphy. If you didn't want to spend much, a regular pen and a good sheet of paper will work wonders. But if you're willing to push this brewing hobby into something serious, by all means, get a high-quality starter kit from a reputable supplier.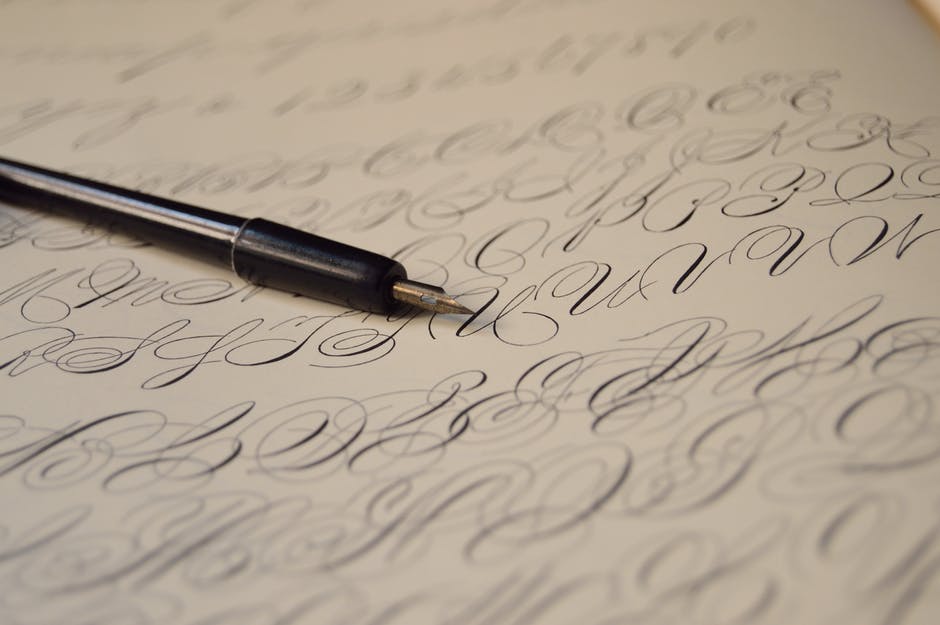 A basic starter kit would include a nib, straight calligraphy pen, ink, and paper. There are several types of nibs available in the market. For beginners, Nikko G or Zebra G Japanese nibs are perfect as they're easy to handle and great for learning. If you use G nibs, any standard calligraphy pen would do. Sumi ink is pretty much the standard when it comes to black calligraphy ink. It's highly pigmented, smooth, and is great for beginners. Get yourself a small screw cap container for dipping your pens and transfer a small amount of ink to it whenever you start writing. If you can't find Sumi ink, India ink would be a great alternative. When it comes to paper, get high-quality laserjet sheets. They're super smooth and won't cause your ink to blot or web out.
Create an inspiration board
Here's where you have to put your Pinterest and Instagram accounts to action. Follow calligraphers on Instagram. Also, look for calligraphy and lettering accounts too to get your daily dose of inspiration. Make use of hashtags to refine your search even more. Calligraphy, lettering, and art, are just some of the most popular hashtags that are sure to inspire you. Looking for awesome artists to follow? Check out @stefankunz, @writtenwordcalligraphy, and @meisographic.
Creating a Pinterest board of your favourite letterings can also motivate you a lot. Pin every pretty type you see on Google, and see your board grow. Next time you feel bored and unmotivated, look at your Pinterest account and watch your enthusiasm get back!
Attend workshops
Calligraphy workshops are very popular these days that there's always a cafe hosting a learning session every weekend. Attending workshops may help you learn techniques straight from artist himself. You'll also get to earn new friends, explore a place you've never been to, and try new food! Following local artists is a good way of learning about future workshops. You may also look around your area for cafes and parks and ask with them if they're holding calligraphy workshops anytime soon.
Watch tutorials online
For the introverted, there's plenty of online resources that teach basic calligraphy. Youtube is one of the best places to learn about calligraphy for free as there are thousands of video tutorials to choose from. If you're looking for something more streamlined, check out Skillshare, CreativeLive, or Lynda. They will expose you to hundreds of tutorials too. They're complete with a curriculum, a class project, and you can directly consult your instructor online for feedback.
Practice, practice, practice
As they say, practice makes progress. Mastering calligraphy can't be achieved overnight. It requires days and days of swimming in inspiration, dirtying your fingers, crumpling paper, and experimenting with the perfect style. Practice daily and you'll see yourself improve in a matter of days. Document your progress. Take pictures of your first artworks and compare it to your future ones. You'll be amazed at sure. Join daily calligraphy prompts and practice writing random words and phrases. Your favourite quote, for favourite Bible verse, or any interesting line from the book you're reading. Enjoy the learning process and don't forget to share what you've learned too!
P.S- This submitted guest post contains affiliate links. Thank you for your support.