Card Making
Father's Day Cards Making Easy & Creative Idea
In my previous blog post I've shared an easy peasy DIY idea about Mother's day & how to decorate a photo frame with feathers. I am glad to see you liked my creative idea for Mothers. Now today I am going to share another post about Father's Day. I know it's Mother's Day coming up but I am here with a Father's Day blog post? As I am more close to my dear father than my sweet mother, So I thought it would be unfair if I will only share a post on Mother's day craft idea. So I end up creating something fun. Would you like to see a Father's Day cards making easy & creative idea?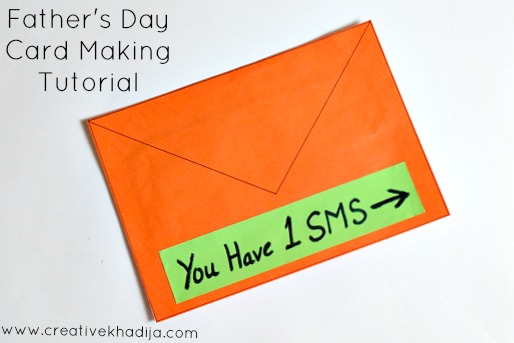 Father's Day Cards Making Easy & Creative Idea
So I design a handmade card. Theme is kind of a phone text. As these days we rarely buy greeting cards to wish our loved ones. We prefer sending a phone text or message on social media network usually. So let's design something similar today. Have a look :
Craft supplies you will need :
Thick card paper sheets in 4 different colors.
Marker, Scissors, Mod podge glue & double tape.
Rub-on transfer stickers with Father's Day text.(I have stickers from Mod Podge)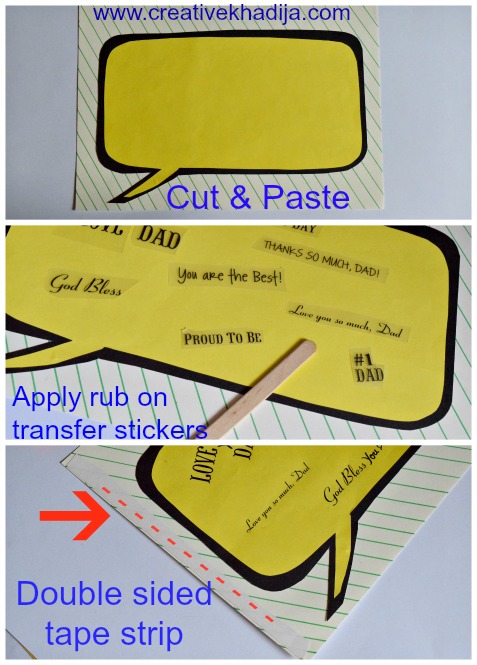 How To Make
Step one :
First of all, Draw on sheets & cut similar to a speech bubble style. I overlap black card with yellow just to give it a 3D look.
I draw some lines on an off white card & put it as base. Then I pasted black speech bubble & overlap it with yellow.
Step Two :
Cut the text words from sticker sheets & separate them for applying on the speech bubble.
Transfer the stickers carefully. Use any stick to rub properly. I paste these randomly without any order.
P. S – Some of the words I wrote freehand too. Love "you" Dad, Proud to be "your daughter" God bless "you".
Step Three :
I design the orange sheet as envelop & cover of the card.
Stick one edge of the orange sheet with the base card sheet by using double tape.
I wrote a text on white sheet "One Message Received" But later I replace it with a green color paper with text "You have 1 SMS".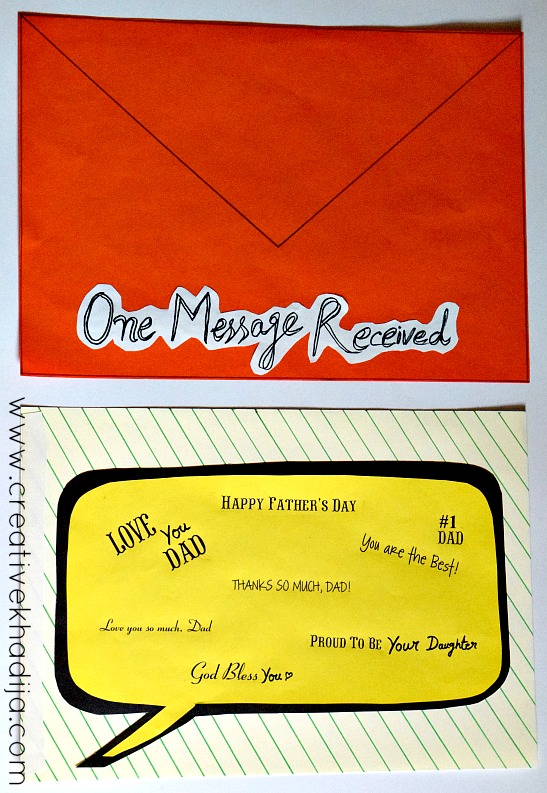 Card is ready in just 3 steps. Super easy & quick. Isn't it?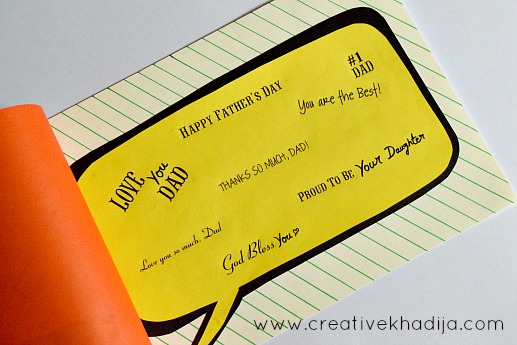 As it's said "Father is a son's first hero & daughter's first love". So true! My father is my best friend, my hero, my love & my power. I am super lucky to have a wonderful father Alhamdulillah. Oh well, Daughters are always Daddy's girls, Right? Thank you dear Abu, God bless you always. Love you so much!
Isn't it a fun card making idea to text your dad on this Father's Day with a text card? So what are you waiting for? Write your feelings on a card & shape it like a text. Drop it on his study desk or side table under his phone. Btw I put this card in my father's laptop, As he flipped his laptop screen, He found it & enjoyed.
You may think why I handover this card to my father before Father's day? Actually I celebrate everyday with my father as Father's day. By spending wonderful time with him, cooking for him, watching TV with him, discussing each & every matter of my life with him from my arts & business to my work & life. He is a banker, Not an artist but I salute his patience as he always listen to me politely. Haha! Does your father listen to your random ramblings on daily basis about arty crafty life?
Anyways, I hope my dear readers liked my today's Father's day cards making easy idea. Feel free to share this tutorial with your friends. Hit the share button & spread the idea. I bet you can make something better & more creative as well. Don't forget to show me yours version! You can Email me at creativekhadija at gmail dot com.
These are a few recent card making tutorials, But you can find many more tutorials by following the link. Enjoy!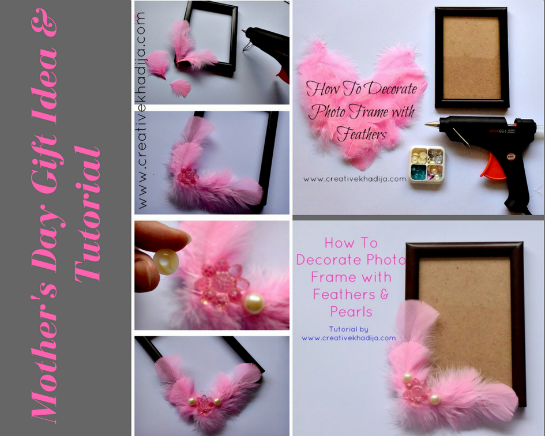 Also check this Mother's Day DIY gift idea. I hope you will like it.
Have a great day!
Khadija