I am sharing an easy way to make a ribbon band, its a friendship band. I hope You will Like to learn its tutorial. Its a bit tricky but seriously not difficult, simple way with steps!

I will make this band with the help of card wheel. There is no need to buy special kit for making this friendship band…
Now lets start making this smart friendship band…
Friendship Band Tutorial
Have a look how is it looking !
First of  all you have to cut a card piece of 4 inches round, make 8 little cuts in it as the blue color lines showing, and a central whole. keep these in numbers.
Take three colors of  fabric ribbons.
Length of  ribbons will be 28 inches long..
cut two orange lengths,two green and three pink….
Give them a knot together…
Add ribbons in the hole
Fix all ribbons at all the number 2,3,4,5,6,7,8 ,but leave number 1
Now the main process is starting…
Shift  ribbon strand # 4 at the empty number 1 as the picture showing
Now shift number 7 at number 4…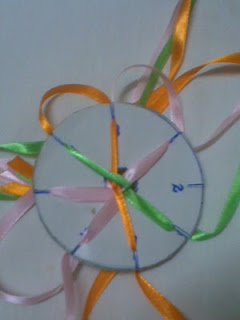 Now shift number 2 at 7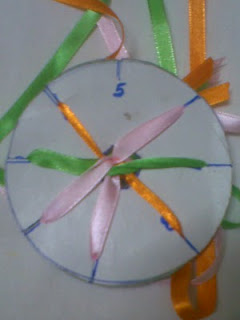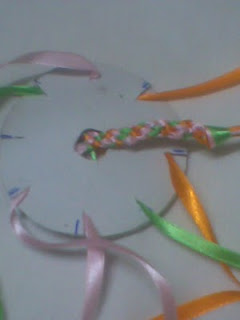 And from the back side you will see its preparing nicely…
you will have to carry on this process in this scheme
4 at 1

7 at 4

2 at 7

5 at 2

8 at 5

3 at 8

6 at 3

1 at 6
You will need to repeat this process 38 times.then friendship band will complete…with in half an hour you can successfully complete this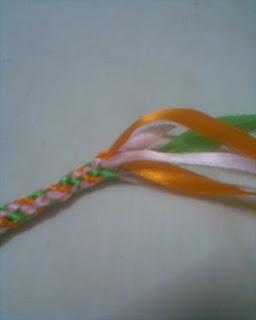 Give them a finishing knot and complete this band…
I have made a headband using same technique….I will try to show you soon. I just take long lengths for headband.
I hope you will enjoy this Friendship Band Tutorial.
You can also check some of my other Ribbon work crafts & ideas
Have a good day!
Khadija ~