I was checking my cell phone gallery. I find a sweet picture of my niece..she is my very dear niece. I made a shirt for her a few months back…
I want to show you the shirt then I will explain
Tie & Dye With Embroidery
Here it is the shirt motive I have designed!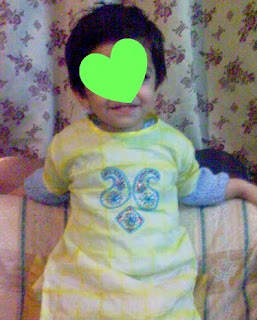 I was free and were having mood to try some tie & dye work..
Well First of all I take a white cotton fabric and make some pleats of one inches…then fold it & tie it with a strong thread.
but color was not strong,,,it was mixing with white…
then i thought about doing embroidery on it..
So i make a little free hand design with pencil and work over it.. 
If you want to know about whole Technique of this Tie & Dye,

you can visit my another post.. 
I use this EMBROIDERY TECHNIQUE for making this,
Finally i complete the whole work with in a day…
The most interesting thing is…my niece is in love with this shirt,,Oh really!!!..I don't think so that it's very good but after all she is an innocent kid…can do anything..hehe
Have a Nice day :)