Hand Embroidery is always interesting but seriously I am a lazy person..I haven't tried any hand embroidery work from so long(I want to try but..)..although my Embroidery work is always appreciated by others..Today I will be sharing one of my hand embroidery work from past, its a necklace with decorative embroidery by using aar hook(similar to crochet hook but very thin) and the silk thread.
Hand Embroidered Bling Necklace
Its the necklace piece, the base is cotton fabric & after doing embroidery,I paste some fleece at back side for hiding the embroidery inner side & also for making this comfortable.First of all I draw the shape of necklace at fabric & then fix it over a hoop & then started working on embroidery. & when I complete my work, then I paste the fleece at back side & trim it. fix the loops & tassel straps & its done!
The big one is Neck piece & the other similar one is arm piece.. which is usually wore by the girls when they are wearing half sleeves..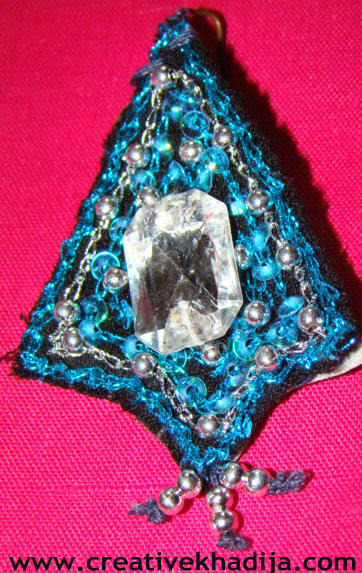 Material I have used in this Embroidery work is Silk thread, zarri thread(tilla) silver beads, turquoise sequins, silver Rhinestones. If you are curious about this embroidery technique, you can learn through this Tutorial of embroidered leather purse.
I will be back again with an interesting craft tutorial. Have a nice weekend!
P.S Dont forget to enter my handmade GIVEAWAY of Anthro's Inspired Necklace & Bookmarks.
Khadija ~