DIY
Candle With Glass Paint
I found some paraffin+bee wax in my trash box..when i was doing my textile designing there was a project of Batik work.I were having a lump of wax in the crafty drawers after completing my Batik Project…So i tried to make a candle with glass paint…But i don't have any proper mold
Let's see what experiment i have done..
Candle With Glass Paint
I simply melt the wax & pour it into an empty jar of honey and when the wax get hard I paint on the jar..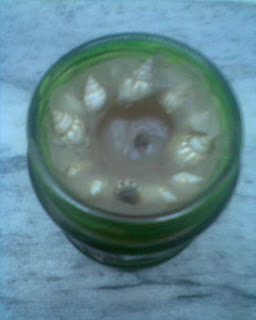 I take small shells & fix these on wax all the sides of jar,i lit the candle several times & shells are fine…
This is the image in dark..you can see how it will be looking in the dark when lit. colorful designed candles are available in the market but the candles we can create free of cost are always fun!

Thanks ~
Khadija