Hi Friends..
This time my Creative Mind is filled with Economics & Philosophies of  Education..(for tomorrow's test)I was studying the rough subject whole day & this time my Creative Mind was about to cry..so i turn on my PC & start posting..how cool it is to ignore exam(hehehe)Well due to study type nature these days i make tutorial of a bookmark..& now i will like to share it with you..i hope you will like the idea..
First have a look…
 Bookmark Tutorial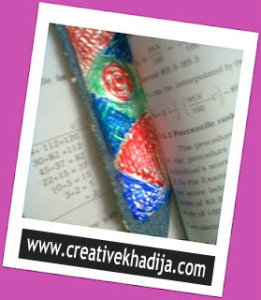 I have a secret there…now sharing…after completing this bookmark i thought its not looking cool as i think before..very rough..so i give it a punish..you know how to punish any bookmark..??i know very well…i placed this bookmark in my book of Statistics of Education..between 500 pages..hahaha..what a punishment.
Now the tutorial starts;
You will need
Foil sheet piece
Scissor
Permanent marker
Jeans fabric piece
lets see the steps…
 Cut the foil sheet piece..
Make lines or motives with scissor tip
Paste the foil piece on jeans piece..
&
then apply different colored markers
well If you feel any problem while making this bookmark do write it to me..
now i am fresh after posting this..so going for studies again…
Enjoy my other better bookmarks Making Tutorials
Have a good day!