BookMarks Making
Creative Handmade Bookmarks Making Easy Ideas For Kids and Girls
Hello crafty people, I hope you are having a beautiful day. As you know I always enjoy paper crafting and sharing my easy creative ideas with you. So today again I have a creative idea to share about felt fabric bookmark making. One of my dear friends asked me to make some girly yet creative handmade bookmarks for her. I made this batch for my friend actually & She liked these girly bookmarks. Have a look at some Creative Handmade Bookmarks Making Easy Ideas For Kids and Girls.
Creative Bookmarks Making Easy Ideas For Girls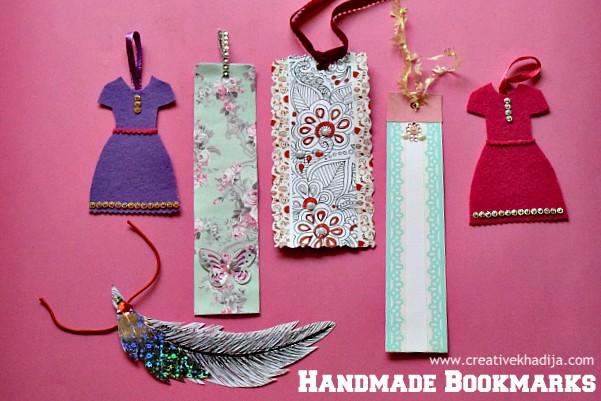 Here are six handmade bookmarks, two of them made out of felt fabric while other four with card sheet.
Craft supplies I've used here for making these bookmarks are listed below every bookmark. These are easy, so I think just explaining the process will help you in making one for yourself. Right? Let's see.
Pink and Purple Felt Fabric Frocks Bookmark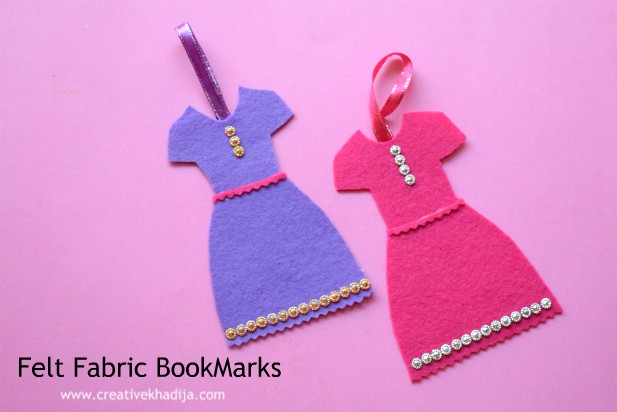 Craft Supplies:
Felt fabric
Rhinestones
Ribbon
Zigzag scissors
Hot glue gun
Creative Handmade Bookmarks Making Easy Ideas For Kids and Girls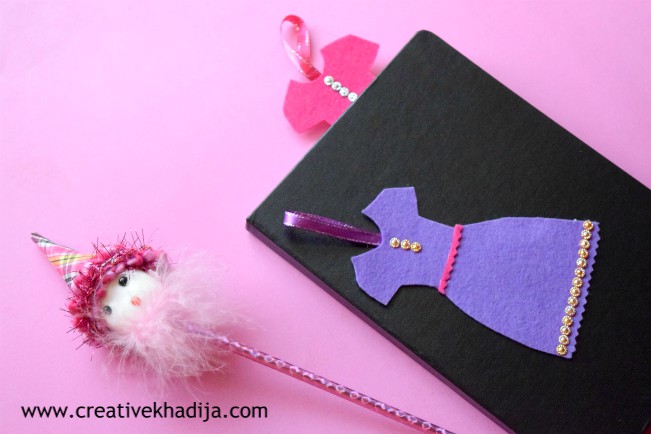 Process for Felt Fabric Bookmarks making:
First, draw a frock design on a paper and use it as a template. Then cut felt fabric accordingly.
Design it with rhinestones now. I also paste a zigzag cut out felt fabric in pink color.
With the help of a hot glue gun, I pasted the ribbon on the back side of the frock bookmark.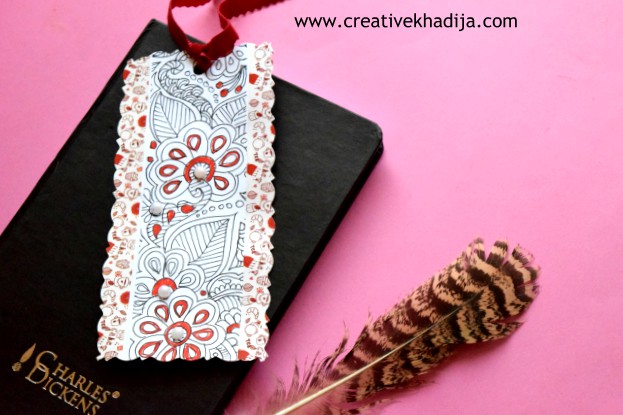 Craft Supplies:
White card sheet.
Washi Tape
Designed scissors
Velvet ribbon
Pearl half beads
I am in a habit of drawing and doodling you know. You can see my freehand doodles here. I cut one sheet from those and pasted on the card sheet. I color it with red & then pasted half pearls in small size. I've applied some washi tape on all sides & then cut it with designed scissors then. Knotted the ribbon and it's ready.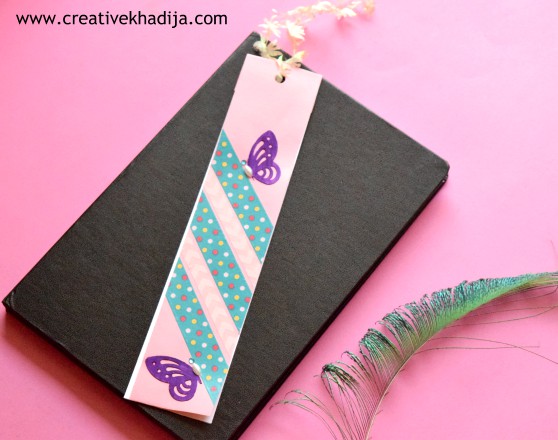 Craft supplies:
Paper card in pink & white
Washi Tape
Paper Butterfly
This bookmark is dual sided actually. I have applied just washi tape to it. Then punch & knot the tassel. That's it. The other side of this bookmark you can see in the first image of this blog post. Aqua color lace washi tape on the white side of the bookmark.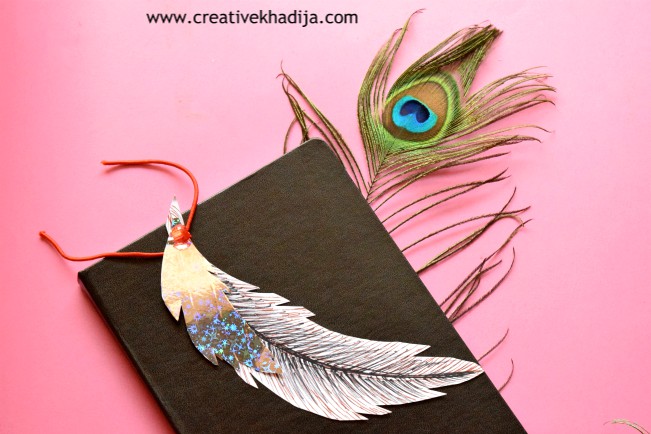 Craft Supplies:
Paper card sheet
Silver card sheet
Red elastic
Bead
Scissors
This is my favourite one. You will need to cut two feather-shaped cards in big & small size. Draw some freehand lines on it until this looks like a feather. Little feather is a silver sheet cut out. Then tie a knot to keep them both together. Also, I've inserted a bead with elastic thread in red color too.
What do you think? aren't these ideas super easy & fun? I hope you will find these creative bookmarks making easy yet interesting.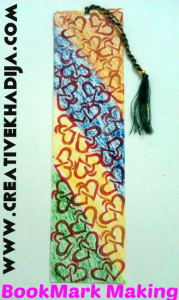 You can also have a look at my previous bookmarks tutorials & ideas. I hope you will find these creative handmade bookmarks making easy ideas for kids and girls.
Keep sharing your feedback in comments. Follow and Share this blog post on your social media networks. If you are going to make one of them, be sure to let me know. I would love to see and feature you on my blog. feel free to contact me if you have any question or if you want to buy any craft.
Have a great day!
Khadija