I am again going to share some more designs of Hinna..I am glad that you sweet friends admire my designs a lot..Well I make these designs a few days back,the weather was rainy.
Hina Designs-Mehndi
During nice weather & rain i make these designs on my hand..How FUNNN
After washing hands,its color was like this…Nice..?
Its the image of back side of my hand.i didnt like it much,so i wash hand early.. its color was very light so i didnt take picture after hand wash..
This time i was taking photos outside of my room,most of my pics are in my room lighting,i feel picture quality is much nice outside,although my cell phone is the same..!well i will try to take pics outside now!!
I saw these newest buds & branches of of plants in the backyard,so it was a very fine feeling to see the new season & lots of colors..i wish everybody enjoys every season of his life..
Some Tips
If you want to see dark colored hinna on your hands so there are somethings which matters a lot..
first,the newness of hinna paste cone,if you are using a cone which is expired or old,the quality will definitely disturbs.
After applying hinna,let it dry for maximum hours,mostly hinna is applied late night,so it stays for several hours,& the surprise thing is this,when you will wash your hand in morning,you will shout suddenly,Hey!!what a nice color..waooo
after hand wash apply any moisturizer,i apply Vaseline on my hands mostly..
And the most interesting tip is this…Dont dish wash for a few hours.detergents or soaps are color eaters..
————————————————
One thing more i will share..
I was Guest a few days back on a blog of my sweet bloggy friend Laline. from Spain..there i have shared some of my hinna designs,
so visit To Sew With Love..& see some more designs there.I am sure you will like her blog & work also..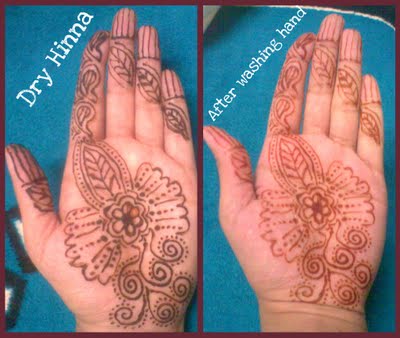 Visit Guest Post
I hope you will enjoy the post & tips, these will help you in bringing the best result
Have a nice day..