id="" align="aligncenter" width="320″]
Paper Lantern[/caption]
 I Have done this Hinna Paper Lantern a few days back..today I am going to share this Previous Lantern was designed on a white paper sheet but now i take pink(my favorite color) When I place this around candle,pink color was looking so nice..This one is square shaped lantern but previous was round..
I take this A-4 sheet & fold it in 4,then i designed according to the shape..
After completing the Hinna design work,then i take some colorful markers,so it became a colorful piece :)
What about it now…??
Again I cant take any fine picture..its a poor image but believe me it was looking so nice..
Do you want these..??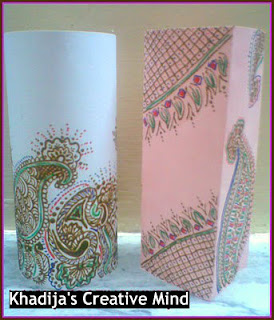 ENTER To Win This GIVEAWAY…
I hope you will enjoy my handmade creation & design..Have a Lovely day & Good Luck for All Sweeties :)