DIY
How-To Make Colorful Document Files
During my Teaching practice sessions, I was in need of a colorful folder for my documents, for keeping all working lesson plans in hand & for some other record papers etc..our teacher says,she dont want to see plain files in any hand! everybody must have a designed file for lesson plans!
As I love paper crafts, So I made a few colorful files, actually i was too busy in my work while making these files, so i forgot to take step by step pics, i would like to show you today about my colorful creations, I hope you will not get bored!!
How-To Make Colorful Document Files
what do you think?
while working on this color scheme, i was thinking about my tons of lovely Spanish friends..yellow+red..Spanish scheme :) i like it
first i cut the card paper & fold it like a file,
then i cut some strips with designing scissor, & simply paste it over the file
then i cut some slim strips in blue color for fixing between red strips!
At the end, i take golden glitter glue & make outline with it,& with green glitter glue i make these tiny flowers :) I also fill the strips with glitter zigzag design,my thumb was getting tired much after pushing tube lots of zigzagzzzzzzzz !!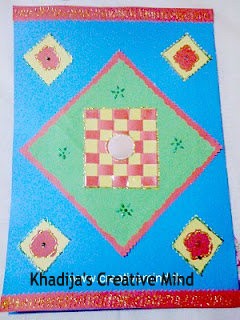 This is another colorful :)
I weave with a few strips & fix the patch in the center!! looking well?
Oh yes, i paste a round looking mirror in the central point!!
now the above red,green,yellow file is my less favorite..i think i have used much glitter here..
hmmm…
I take two colored foamic sheets & free hand make some flowers with pencil & cut it simply!
then paste flowers on card paper file & apply glitter!(but a little not much as i have applied)
hmmm
when glitter will get dry, then punch & add ribbon in it..i take pics before punching…
After a huge effort & hard work..i got these remarks from my teacher…huhhh..
these are Remarks!! the kid above in 2nd pic was a part of my lesson plan on different stages of human life..so i paste a tons of pics at every age group! that's why I got good remarks, believe me my teacher is very strict in writing good remarks. These days i am not much crafty. My creativity is working most on my studies, you know what I m going to do this week? for my final lesson presentation?
I color all these & then i will cut these as i cut in my previous boards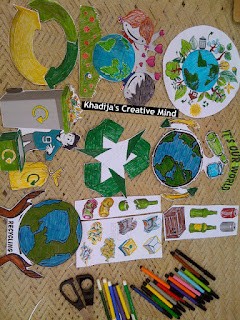 its paper work going on, very soon i will share models of my finished visual aid..my one model topic is Recycling. I am working on Recycling boards, its my favorite thing to think about!!!as you know very well :)