This is another easy idea for a colorful beaded
bracelet,
ONCE I make this beaded bracelet..i really feel that its extraordinary easy! Luckily there was my cell phone(Nokia not iPhone) around & i start taking pics step by step..
but be sure to ignore my hairy arms…haha
Ok lets see now!
Beaded Colorful Bracelet
What about this now,isnt it a colorful combination?i like its twists & turns :) yes!!
You will just need to have a few colorful beads,
a wire
& a nose pliers
& follow the simple steps above & below :)
———- Process ————
add the beads in a 10″ long wire piece,
then turn both sides to lock the beads in a wire!
then start twists & turns according to your beautiful arm
with the help of nose pliers, you will make its exact position for your arm !!
& then i add a tiny tussle at its one end !!
& thats it…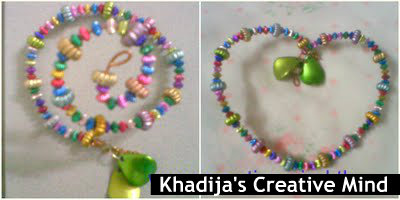 when you will place your bracelet at any surface the shape will look like above circle in circle!!!
oh yes again!!
During making of this bracelet & while playing with this beaded wire once i make a superb shape..hmmm..a colorful Heart…& a sweet heart…
isn't it lovely??
Remember i have shared a news about winning a scissor holster  so i received the package
Okay Now! At this SUNDAY 2nd October,, i will deliver my final two lessons of teaching practice course in school! students will be my class fellows & there will be a panel of  supervisors, including vice principal & regional director etc..& i will deliver my lesson in front of all these people..very soon i will share my latest Visual boards, which i have done for my lesson! my topics are Recycling(science) & Welfare state(social studies)..i have done the model boards today!
so please pray for my best result!