DIY
Henna Designed Paper Lanterns
Hello All,
Today I am going to share another Henna designed Paper Lantern, As usual i make both of these lanterns without any pattern & free hand, i just take paper & henna cone  & start applying so simply at the end i got these smart designs!
I hope you will like my Designs! so have a look at my work :)
Henna Designed Paper Lanterns
I play with some photo editing modes, i really enjoy when it turned out black n white..hmmm
it seems totally different from the colored designed version :)
Now do you want to see some colors?
AND
Now Have a look at the simplest How-To…
First you will need to have a A4 sized paper sheet
A bunch of colorful markers!
& now simply start applying designs on paper
If you are not a design master, it doesn't matter,
simply print out my above black n white pattern & then take a butter paper, simply copy the design & paste on your sheet
After pasting the pattern,you will just apply henna on design simply,when henna get dry you will use color markers for restyling its simplicity :)
I did a Magic here, i apply Mod Podge here! & the sheet was shiny at the end, i hope the henna herb will not fell off at any curve!
Be sure to apply a very thin layer,otherwise the paper will damage because of wetness!!!
Lets take a double sided tape & use it at one side of lantern
now its ready to send someone…..oh yes! I have posted this lantern to one of my sweet friend!
I Dont know you like or not but i like the above image so much!!!
Move on to the next Paper lantern,
Again you will repeat the same method of applying,drying,coloring & Enjoying *(*
Although my camera work is not so good but i manage a little with editing :)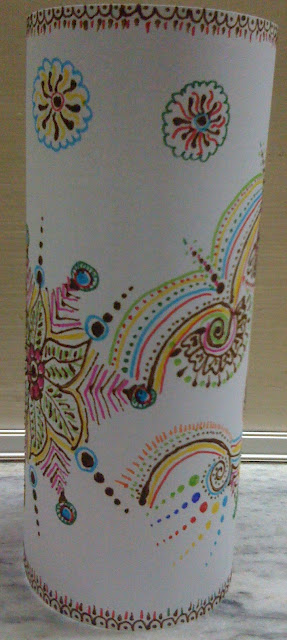 I like it :) i hope my friend will also enjoy these colorful lanterns! 
Well here is an opportunity for you now!You can buy my paper lanterns, contact me at kkcreativemind @ hotmail.com
See my previous lanterns HERE