Accessories
DIY Leopard Print Earrings With Mod Podge Dimensional Magic
Hello All,
A few months ago i got a pack of Mod Podge Dimensional Magic  from sweet Amy, I really enjoy when I work with it :) & Now I am in love with this cool product! If you will remember,I have done a Picture Pendant before, Now a few weeks back I make a pair of Matching Earrings with the fabric of my shirt :) Today I will share its Tutorial with you all sweeties!!
 DIY Leopard Print Earrings
Ok first tell me where are my earrings in the picture below..???
Have you pointed out the pair of earrings above?? Hahaha..I try to trick you a little :) :)
Now have a look further!
Now move on to the complete Tutorial !
You will need to have above material..
Silver sheet
fabric
scissor
Mod Podge+ DM
A pair of earrings
stickers as pattern!
1= Paste paper stickers on sliver sheet & cut it perfect!
2= apply glue & paste fabric over it..
3= when it will get dry cut from outer sides,(extra fabric)
4= complete your oval shaped earring piece!
Separate carefully the bead of earring
Make a hole with needle & add the earring lid into it
Now pour the Mod Podge DM carefully & let it dry for 2 hours
I apply two more coats over it but after its getting dry!
Then I take a glitter glue tube & apply silver glitter around the design & I think its not bad!! you can see the difference in the middle image!
My Black & White Color Obsession these days :)
Well you can see my black n white leopard print shirt..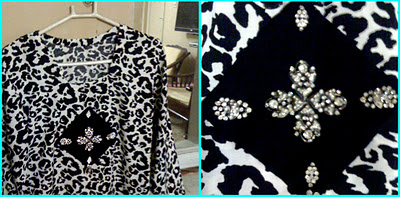 My leopard print shirt & my hand designed fabric & metal patch! this patch is made with metal pieces! i cut some antique jewelry pieces & arrange these on a patch! I hope you have enjoyed this!
Well a month back I went for shopping & I dont know why i shop black color a lot! I bought leopard prints, lining prints but all are in black & white color :)
In winter, black n white is my maximum desired color, even i bought crockery too in black color & my Mother laughs at my this color obsession madness!! hehe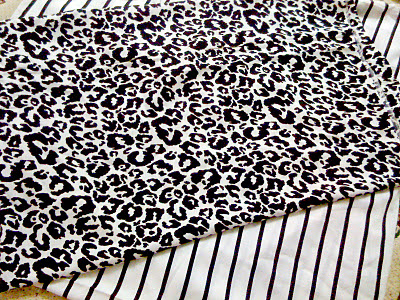 P.S These days I am doing multicolor Ribbon Embroidery on a 
black & white
lining printed shirt..hahaha but really! very soon an embroidery post will be published
:)
Have a Colorful Day