Are you a fan of Anthropologie? I like their cool stuff & enjoy browsing more and more specially in their jewelry side :) I saw their latest range a few days back & some of their necklaces & charm pieces inspired me a lot to make something similar as they were easy to make! I made 2 necklaces & believe me its totally easy to make. Have a look what I am making today.
Anthropologie Charm $15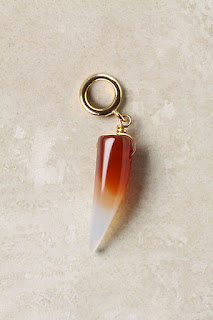 Its my version! and in only $1
Is it looking good or not?? I got this chilli shape marble charm from a key chain piece! I like it & as I was not using this as a key chain, so when I saw the Anthro charm, I thought its the perfect way to use my blue marble chilli in a necklace piece :)
Check out the "1,2,3,4 & done" Tutorial. I hope you will like it.
1- you will need a pearl necklace, it is available everywhere but if you cant, you can also get a chain(reuse some old stuff)
2- Nose pliers & a chain piece(I hope you can find this in your jewelry box)
3- Make an exact mid if you are adding this in any beaded necklace!
4- Add it with a jump ring & fix it in the center. That's it, you have done it.
It will take hardly your 5 minutes! You will do it yourself a cool necklace.
In 4 easy steps the necklace is done. Hopefully you will find it easy to make. Be sure to give it a try & enjoy!
You can also have a look at my other Anthro Inspired Jewelry Making

If you want to see some other Anthro Knockoff by me, feel free to show me via email or use the contact form to send me the link. I will try my best to recreate an easy knocoff DIY for you! Have a great day!
Khadija