Are you a fan of Anthropologie? I like their cool stuff & enjoy browsing more n more specially in their jewelry side :) Well I saw their latest range a few days back & few of their necklaces & charm pieces inspired me a lot, even these were so easy to make! I make 2 necklaces & believe me its totally easy to make..it will be a pleasure too that you are enjoying this without paying much!
Anthro Inspired
15 $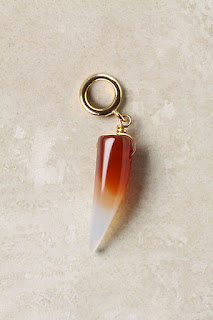 Its my version!
1 $ only!!
Is it cool or Not?? I got this chilli shape marble piece from a key chain piece! I like it much & I was not using this as a key chain, but when i saw the Anthro charm, I thought its the perfect way to use my blue marble chilli in a necklace :) :)
Check out the "1,2,3,4 & done" Tutorial :)
1- you will need a pearl necklace ,its available everywhere but if you cant, you can also take a chain(reuse too)
2- nosepliers & a chain piece(i hope you can get this from your jewelry box :)
3- Be sure to make an exact center if you are adding this in any beaded necklace!
4- Add it & fix it in the center & you have done it  :)
It will take hardly your 5 minutes! & you will have a cool necklace in hand..(may be around your neck :)
I cant stop my hands from photo editin
g fun!
Hopefully you will also have fun..give it a try & enjoy!
See my other Anthro Inspired Jewelry Making