Embroidery
Leather Purse With Hand Embroidery (DIY)
Hello All…
I Love doing Embroidery, but it takes much time & concentration & being a student,I cant enjoy embroidery much.but last month I was free from Exams so I thought why not to try something with Embroidery..

Once I have shared a waist belt & I said I will share its technique..but sorry I am late :( well my today's creation is a part of  the same thing! this post will be helpful for you !
So Lets see what I have Done within a few hours!
Its Not a big purse,I can add some handy stuff in it :) like my iPhone,glasses,wallet etc :)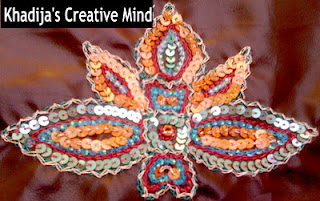 This is the finished Design, When I start this I was thinking about making a belt but at last I complete a purse :)
 I bought nothing for making this,I was not sure what I will use in design,I open my Embroidery stuff stash which is filled with several colors & designs of beads,sequins,rhinestones,tiny decorative stuff for fabric etc.. I am a good organizer :) & I love these glass jars of 2″..hmm
 I use 3 colors of sequins(green,aqua,antique) & 3 colors of Tilla(embroidery thread)
 I take the leather piece which I have been used in my sweater refashion ,Its a good stuff for doing Embroidery! & I make a freehand design with marker,
FOR THE DETAILED TUTORIAL OF THIS EMBROIDERY STITCH,CHECK THIS

PREVIOUS TUTORIAL POST
First I start making the outline with chain stitch, the hook is like crochet hook but with a very slim Tip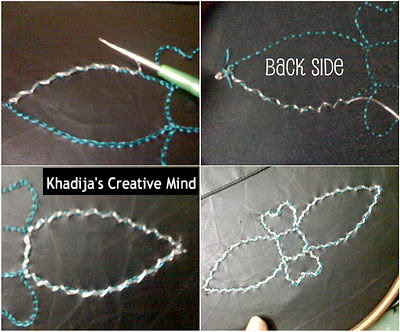 Then I start doing Zigzag over the chain stitch because the chain stitch will definitely be safe even if you will cut along the outline of embroidery,,,Actually I start making this as a belt patch design but when I complete I make a purse..huh..if you are not going to cut it,you can avoid zigzag stitch!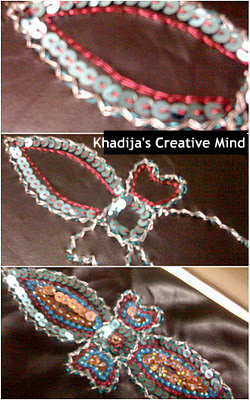 Then I start filling the design with sequins,my Mother suggest me to make a purse or pouch with this embroidery,I like her idea & I start spreading this design :)
Again first I make chain stitch outline & then filling with sequins!
Its the front & back side, you can see back side is not Much messy with threads,Ohhh,,this shape looks like butterfly too..isn't it?
My mother help me in sewing this purse,I am not good in sewing! Then I attach a rhinestones lace as a strip of my purse :)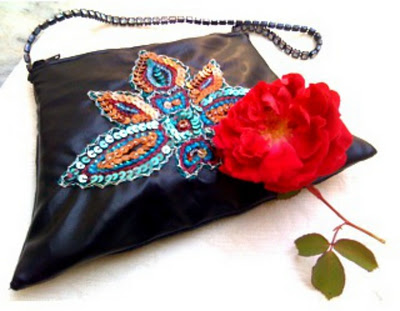 Roses are Not usual in this severe cold..but daily I p
luck 4,5 roses from my garden,Unique..isn't it?
Have a look at some of my other Zardosi embroidery posts!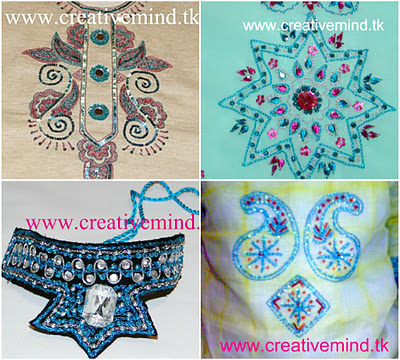 I HOPE you will like my work, Give it a try & Enjoy!
If you want to make a waist belt with the same design you will need to do..
1- cut the embroidery design patch carefully
2- paste any thick fabric piece at back side
3- take any waist belt or broad ribbon & hand stitch the patch with the strip & you have done!
p.s have you noticed my cell casing above? be ready for its DIY next week :)