Hello Friends,
I am going to share one of my embroidery or fabric paint pattern today, It can also be used for any other fabric design purpose! Although its not a thick design which is usually liked for embroidery!
But its unique for me, When I was doing my Textile Designing then we have to make patterns with much effort, we made Movie boards, Mood boards or Repeat designs at large sheets,& then our teacher picked some motives for patterns! so the design is always a result of huge effort..
my today's pattern is picked from this design board..
Pattern for Embroidery & Fabric Paint
Have a look at my today's Pattern now!

The image below is taken from my freehand painted original design board showing above..can you search from my board..?
I have used this deign at my poncho border! Have a look
Actually I used glitter paint led, that's why its not showing so well & vivid in picture..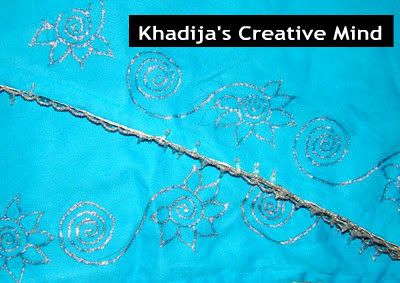 Last year turquoise color was among my most faves!!so it was a plain poncho but I make it a little shiny!
I hope you have enjoyed my work & now you can make things by using this pattern! Dont forget to show me your stuff if you try this pattern! I would love to see your effort!
You can enjoy more creative ideas related fabric painting HERE

Have a Nice day :)