Its been long,I haven't shared any henna designs post..Why..? actually its winter & henna application during winter season is not a good idea,it can be a cause of headache if you will apply while feeling cold..so I was avoiding.although I apply on & off,Whenever I apply,I take picture & save it in a folder,because I want to share so many designs with you at once,in one post..So today I am going to share many designs.So get set ready for the Henna/Mehndi designs! I am sure you will have fun!
Henna/Mehndi Designs
I never use any pattern for applying henna,when I start applying this design(from my Mind)I thought I will make a peacock shaped design,,but failed in making peacock type something..although I tried,haha!
I wash my hand when the herb get dry(I apply hardly 15 minutes) & the result is this…
Its a lighter color,if I keep henna herb on hand for hours the result would be dark & darker..mostly people prefer applying henna at night & leave it over night,then wash the hand in morning,so you will have a super dark color on your hand..but if you have any chemical henna,it can be harmful for leaving it so long on your hand! herb quality must be good & natural..
I add some glitter colors in design when it was dry :)
 How its looking with glitter..?here girls like glitter added henna :)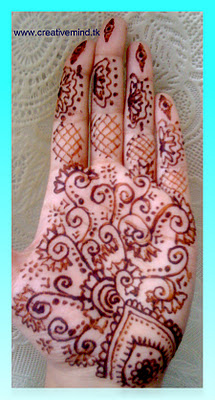 One day, during henna application,I feel its not coming from cone with a good flow,so I stop making design, but I Sign my hand at last!
well Have a look!
This above design is my most recent design! two weeks back I apply this at night!
Its always cool to upload pics of latest tutorial in notebook at night..without leaving your cozy blanket..hehe :)
Check my previous Henna designs
HERE
Waoo,such a longgggg post today! I hope you will enjoy my designs.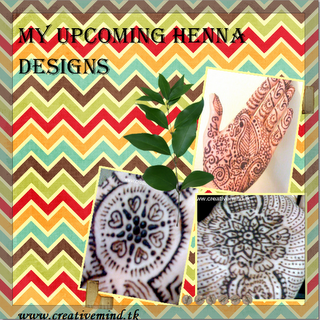 Dont Forget to Enter my GIVEAWAY of  Digital Scrapbooking Software! its ending this Monday.Hurry Up..