I like Glitter & shine stuff extraordinary, & the reason is obvious..meaning of my name "Kiran" is Shine/shimmer & sparkle.. So I am mostly inspired by these things.. well most of my friends are already familiar with this fact that I am wearing eye glasses, I have one framed & the other is frame-less & very intricate eyeglasses. This framed one is not in use these days, so I thought to do any sparkly experiment with this one..So here I tried something..have a look..
DIY Glitter Frame Eyeglass
Bloggers are working most these days on Valentine's day theme..so its not bad to try something with Red color ..
and the shimmer/shine is perfect.. the end result is cool yet so simple..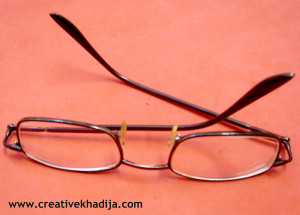 Here above is my plain black frame of eyeglass..how simple na!! let see how I will convert it into something shiny !
You will need to have;
Plaid Extreme Glitter (Red & Silver)
Paint brush
And definitely an eyeglass..
Apply one coat of the glitter glue & let it dry for a couple hours..then Apply the second coat for some more sparkle..you can repeat this if you want thick & more shine.
I apply the silver glitter glue at both sides for a bit change.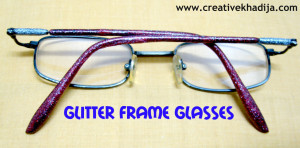 And its done..Plaid glitter shimmer is water base & non-toxic & its an acrylic glitter paint. best results can be seen when its dry totally..
Here it is my fun decoupage idea with Eyeglass Case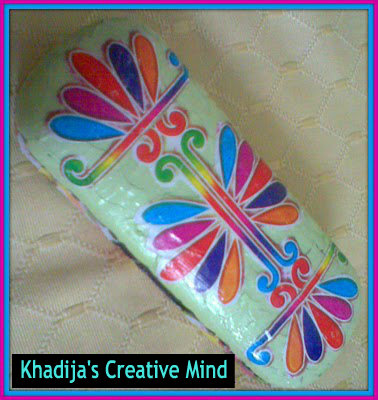 and you can also enjoy this easiest DIY about refashioning your sunglasses with rhinestones from my archives.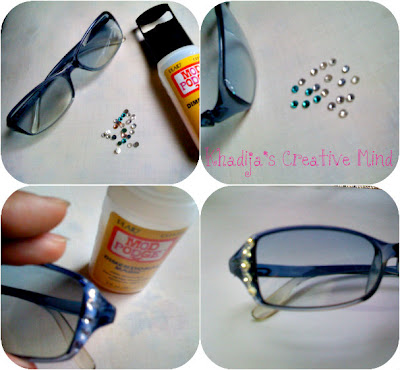 DIY Sunglasses with rhinestone
Making things different is not a hard job, all you need to do is just a little bit effort & tiny bit creativity..so the ordinary thing can be extraordinary simply! Now its your turn to restyle your ordinary stuff & create something extraordinary. Have a Nice day..
Khadija ~