DIY
No-Sew Netting Fabric Brooch
Pink color is so popular these days specially because of valentine's day.Today I am going to share with you a very simple idea of making a netting brooch for embellishing anything girly..its completely NO-SEW but you can also use needle & thread as well as glue..Its a simple yet beautiful idea, so why not to try this easiest brooch making dear girls,,Have a look now!
No-Sew Netting Fabric Brooch
You can try this idea with many crafty thingies..and also fashion based stuff..Have a look at this easy & No-Sew brooch Tutorial now..You will need to have a very few things which are usually available in your craft room..let's see,
Make a card circle pattern & cut many of netting circles according to that pattern, trim some fabric flowers or from lace, take some crystals/rhinestones..and hot-glue gun..
Stitch 5,6 circles with needle n thread together, & then paste the flower & crystal over it. you can also use hot glue for joining these.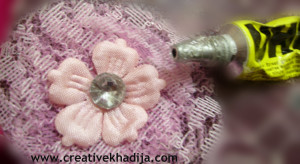 I paste it with UHU all purpose adhesive glue. & That's it.. but let it dry for a few minutes! Now make so many netting flowers/brooches, & you can use these with different ideas, In my next Tutorial post I will show you how to arrange these on a ModPodged Clutch/Purse..so don't miss the next post & I hope you will like that..Be sure to share your ideas with me, about how/where you will be using these pink netting brooches.. here are a few of my ideas.. so you can use these in shirt embellishment, sweaters, shoes, clutches, cuff, bib necklace, wish cards and headbands too..its a light weight brooch so you can go with paper crafts. I hope you will try these & don't forget to show me your effort.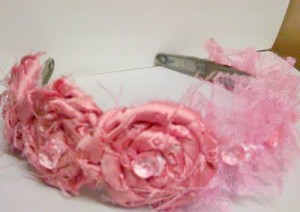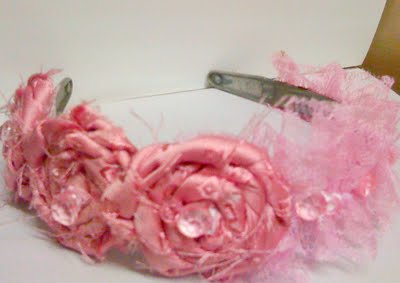 you can also enjoy this pink rosette headband Tutorial Here
Khadija ~