Thanks for enjoying my easy idea of making the No-sew netting brooch/flower. Here today I will be showing how I use those flowers/brooch for refashioning an old clutch/purse.Have a look here..
Purse Refashion with ModPodge
I did this finally, I was thinking about refashioning this old purse from a while but now its done..
It was a plain red purse but its been long I wasn't using this one(as I have big collection of  handbags and purses, so this one was ignored)
These crystals were in  my crafty stash & I always try to use these somewhere.. I like all bling stuff ..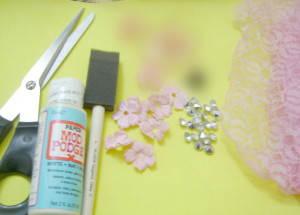 For doing this refashion, all You will need to have is a Purse, Modpodge fabric, Netting fabric, Crystals/rhinestones, Scissor & foam brush.
First for all you will need to measure the appropriate size of netting as your purse shape & design.. or where you want to purse the netting.. Then cut the fabric according to that. Apply mod podge on purse & paste the netting nicely! Then wait 15 minutes & apply another coat of  mod podge over the netting. then let it dry for a few hours.

after pasting the netting, wait until it gets dry totally! and later you will trim the edges with scissor. then again apply sealer to fix those edges properly.

Here it is the before & after image!So what do you think? pink-red-maroon season is ON these days!!
Check the previous post for netting  flower making tutorial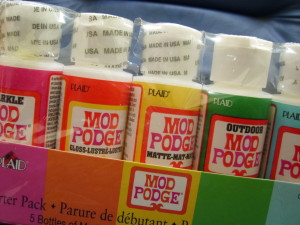 I was very excited to get this package from my sweet friend Amy.. who don't know about her? yes the same Amy of modpodgerocks blog & the author of the book Mod Podge Rocks. I really enjoy her beautiful book filled with creativity.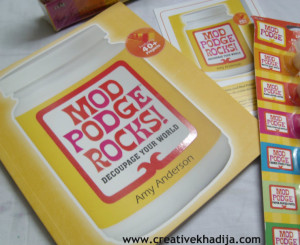 And her sweet words too..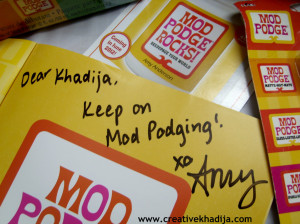 I will recommend you to have this book if you love decoupage & mod podged  stuff. check her super cool creations inside the book.. it would be fun!
I hope you will be enjoying my Modpodged craftiness..I will be sharing more in the future because I have more mod podge now..wohoo..
Hope you enjoyed my today's post. Have a great day!