DIY
Clay Keyring Tutorial
Suspense is going over today! I am sharing  the tutorial of that sneak peek image about which I've shared before in my last post..So Have a look and let me know if  it is a cool reuse of any broken stuff..?
Clay Keyring Tutorial
KeyRing with clay/dough & some bling..actually I use some broken pieces & made something New.. after all some break ups are always good? agree..? let's see how..,
Here it is my metal hair catcher which I broke suddenly while playing with it…hehe but really! but I was not in a mood to throw away these little pieces of butterfly.. so I saved this & after a couple days I create something interesting..in fact useful from something useless.. Have a look at its Tutorial now!
You will need to have a piece of polymerClay/Dough, Modpodge extreme glitter & sparkle.a brush.. & the most important thing some bling stuff like rhinestones etc. (or you can follow my act of  breaking a beautiful accessory by chance..hehe)
First I cut a dough piece(tutorial of  homemade dough..I use the same dough which I have made about two months back) & then place it over a non sticky surface.(make it no sticky by using vaseline) then press it a little & make a hole for passing any loop/jump ring through it. Then apply the modpodge sparkle over it & fix the metal pieces over the dough. & press with your thumb..be careful about the rectangular shape to not to be disturbed.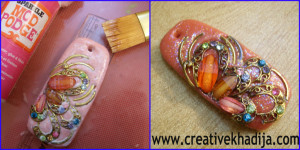 Then again apply a coat of modpodge sparkle over the whole piece. and let it dry for about 10 hours. after getting dry, it will look a little dark in color.and more shiny too..
The next day I saw the dough piece was totally dry & shiny too..and ready to work on now.. If you would like you can enjoy this as a necklace too.. but as I am not much interested in wearing necklaces(although I have shared the making of many necklaces at my page), so I am making this as a keyring/key-chain..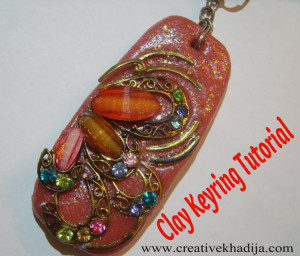 And I just fix the jump ring into the hole & made it a keyring..
its not too big in its size..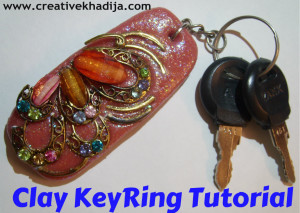 Here is a fun fact..I dont have any keys in use..really! I never have locked my room/closet/cupboards..I only did once my craft room during the wedding events of my brothers when there were many kids all around & were curious about my craft area..hehe..so I did that time only.well yesterday when I was going to take pictures for this keyring, I was searching keys..but later I ask my mother & she gave me these new keys of any drawer..hehe..
Have a Wonderful day!
Khadija ~