DIY
Stone Stud Earrings Making
Earrings making with ordinary & handy stuff is one of my favorite thing to do..as you know I have a bunch of earring hooks, So I always feel good to try with different unique things, My today's post is also a fun idea..Lets see..
Stone Stud Earrings Making
These big stone studs were found as buttons of a jacket.
When the jacket was Over..these buttons were still the same,so I thought to reuse these in my own way..
for its making,all you need to have is a nose-pliers & earring hooks & its done within 2 minutes..
And this collage is for those who wanna pin this idea ..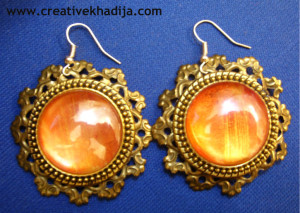 I hope you like this easy DIY..lets see if you have any button/stud in your stash.. let's make.. btw its having weight because of stone/gem..
one thing more I would like to share..you can say its a sneak peek of my next post actually! I broke a hair accessory suddenly, but this metal butterfly was so cute & I can't allow myself to throw this away..so I keep this & Yesterday I made a beautiful thing with this.. cant wait to show you..but you will have to wait till my next post..I will be sharing the tutorial of that making..
Have a wonderful day!
Khadija ~