Weather is getting pleasant day by day! As Spring season is almost here finally, so everything is looking more fresh outside. Well it was raining during last couple of days & sky was showering loads of freshness & it was feeling like winter is coming back! yesterday was rainy but today its a sunny day now!
Anyways, its a random post filled with some of my thoughts & clicks after the Rain.  lets see..
Rainy Day & Thar Famine
Right after the rain, As soon as it stopped I took a few clicks of fresh leaves..
There are thrones of plant with some fresh leaves..
A Rain drop with some soft new leaves!
Grapes leaves with rain water..
The freshness of spring!
Rose plants are these days filled with loads of rose buds, I will be sharing some images of flowers in another post..
And the Sky filled with rainy clouds..
Its a good evening actually! some clouds over the dawn.. looks pretty.
Lets see if there will be more rain tomorrow BUT!
As it was a random post, but I want to share something extraordinary! When it was raining whole day in my city, Islamabad. on the other side of my country there were people who were badly waiting for a few drops of rain in Thar desert. People & animals are going to die because of no rain & severe thirst & famine..
Lands are dry.. waiting for the rain drops..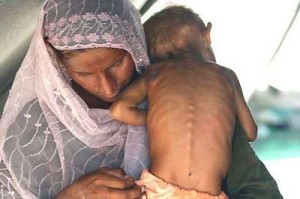 After some rainy clicks from my camera eye, then I browse & saw this image of Thar famine victims. I don't want to share any click like this but there were more than 300 kids died after the famine situation in Thar desert. People are going to die & a few are surviving in worst condition because of no rain there. Global warming at it's peek.
Desert lady in search of water!
I just want to request you all to pray for the innocent people of Thar Dessert, They are surviving in worst condition.. Pray for heavy Rain in their area & try to help them via your donations as well.. May God shower His unlimited blessings over there & help them in living a life filled with all the blessings.. we can't imagine living the whole day without a glass of water but see these people are also human & a part of us as a nation & an ummah.. May God help them soon..I don't know what to write, but I should write something!!
Please stop wasting water, Please look around & try to save this Earth & plant more green. Otherwise this beautiful world will be facing too much pain by losing the life of innocent people. Please Don't waste even a drop of water, there are things we are throwing & taking for granted, but on the other hand people are praying for them so badly! Try to understand please & be careful. Climate change can be a big warning soon! God bless you all.
Have a safe Rainy Day & pray for Thar Famine victims.
Khadija ~