I am blogging from a few years & I am enjoying this fun a lot.. The best part of blogging fun is to have some wonderful Creative Friends from all over the world, blogging is the best platform if you want to stay connected with some creative minds, follow the people of your taste & then enjoy the fun stuff from them.. how nice is this.. Although there are so many social networks for the similar purpose of connection/communication BUT having a blog or website is something more interesting than having any social media account.. well the both medias are inter-connected with each other these days. Social networks can provide you more readers & visitors as well so both medias are fun actually.. Eeww where I am going!! Back to the today's post now.. I have shared some Shell crafts before too & here today I got some shells.. yay!! so why not to share with you!
During these couple years of blogging, I have received so many beautiful packages of creative things from different countries of the world, (sent by any company or any co-blogger) from Canada, Georgia, Washington, Los Angeles, China, Turkey, Malaysia, Singapore, Indonesia, Italy, UK, And this time I got a package from Spain..wanna see the stuff inside? check..
One of my crafty blogger friend Maria Mercedes sent me some beautiful shells from the beach of Cadiz, Spain. She lives near a beach & shares some creations made with beautiful shells, she is also sharing lots of other creative stuff of her handmade things on her colorful blog elolordecadiz.blogspot.com , she is very talented.. when I saw her handcrafted things, I was like.. WAOO..
Some handmade felt hearts.. embellished with beautiful beads & stuff..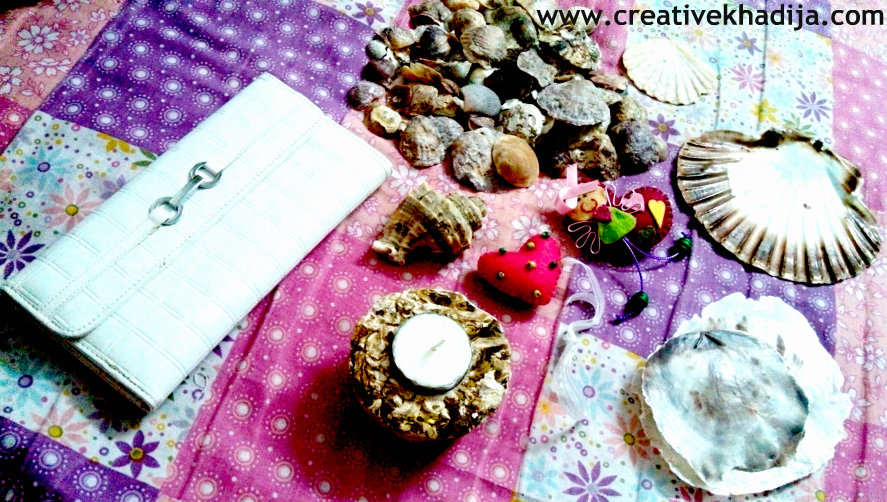 The white clutch seems simple, I am thinking about decoupaging it.. shhhh don't tell anyone, specially Maria.. haha. hope she wont mind my version when I will be experimenting something with it..well the scented candle smells nice!
And Now.. I want to share something very interesting related to this beautiful shell..!!
Yesterday I was playing with these shells & thinking about using these in any of my crafty creation.(I have finalized what I will be creating..Mystery!! wink*) I shake this little shell & suddenly a little lazy worm kind of thing came out from this.. Awww..what a little poor guy worm came from overseas to meet Creative Khadija..(another wink*) haha, but seriously I am not that brave to hold it for a while, So quickly I pack the shell again in a plastic bag & disappear.. Later with the help of my elder brother I feel relax.. haha.. sorry I was excited so forget to take worm's pic..but believe me he is still inside this shell..
I was thinking when Maria was collecting the shells from the beach one morning, This shell worm was not sure about traveling overseas & about breathing in the air of Pakistan..from beach to around hill areas.. how interesting it seems.. this is how from where something belongs & where they reach one day.. mind blowing.. isn't it? So never ignore the little things, they can be more unique & powerful.. the other shells are still lying there on that beach may be, but see this one have enjoyed the air travel as well.. haha. sorry I am so talkative today!!
Thanks again to Maria Mercedes, I will be using her gifted shells in a creative way & I hope she will be enjoying!
Thanks for reading the post, I hope you were not boring!
Here you can see some of my shell crafts, but excuse me first, these posts are from my archives when I start blogging, so ignore the little mistakes & rough posts/pictures!
Have a great Day!
Khadija