Its my

blog's 4th Birthday

today.. Yay!!
Thank you so much everyone..for visiting, for dropping your sweet words & for appreciating my arty crafty work every time..so happy to have you all dear readers & followers from all over the world, you all are special..Thanks for being here with me during this fun blogging journey from last 4 years & for making me proud of myself today..!!
4th Blogversary of Creative Khadija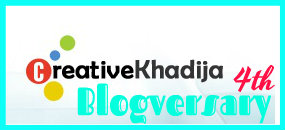 So many plans & so much to talk about, but for some reason, have nothing to write..!
Thank you Everyone..!
KHADIJA KIRAN