Today I am going to share a simple & easy technique related jewelry making. You make pendant but how you will attach it with the chain? do you know how you will be fixing & making a proper piece of jewelry? So today I am going to share the easy & 1-2-3 steps on how to add jump ring with the chain or metal thread.
 How To Add Jumpring With Accessories
You will need to have;
A pendant, a jump ring, nose pliers & of course a chain too
When we start learning about handmade jewelry basics, there we need some simple tips & tricks at start. A jump ring is kind of basic item in jewelry making, it makes connection between two chains or with earring & beads or with pendant etc. You will always be in need of having a jump ring while working on jewelry making.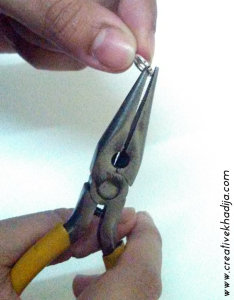 Hold the jump ring with your thumb and grip it with a slim tip nose pliers
Pull the jump ring with the help of nose pliers & your fingers. if the jump ring is a more solid than use another pliers for holding it.
Open the jump ring enough regarding your accessories size!
Add the ring with your pendant hook or any other accessory you are having!
Close the ring while using the pliers & your hand. fix it nicely, so it will not be opening with any burden.
Have a look at this Love Pendant DIY
Jewelry Making is a very interesting kind of crafting, Wearing a handmade jewelry is always fun & when people are showing interest in buying your handmade jewelry, its even more exciting thing! I enjoy making jewelry & selling too.
If you want to buy any handmade pendant from me, feel free to contact via kkcreativemind @ hotmail . com
Have a great day!