What a perfect day today! Today I am excited because it's International Women's Day but who cares when it's your wonderful Mother's birthday too. Happy Birthday To Ammi jaan. I am lucky to have this wonderful women in my life as my Mom. All of my Talent, Creativity, Skills & good manners credit totally goes to Her. By the way I am sometimes used to make her laugh by saying "Ammi You Know You Are Lucky To Have Me?" Haha.. And her smile then!! But its opposite actually, Shhh.. don't tell her please until she reads this article herself. She will be reading this article may be after a couple months, So no worries. You know She is not my regular visitor (Not Fair BTW)
Anyways, Let's celebrate International Women's Day 2016 as well as my Mom's Birthday. It's a good day Alhamdulillah.
International Women's Day & Happy Birthday To Mom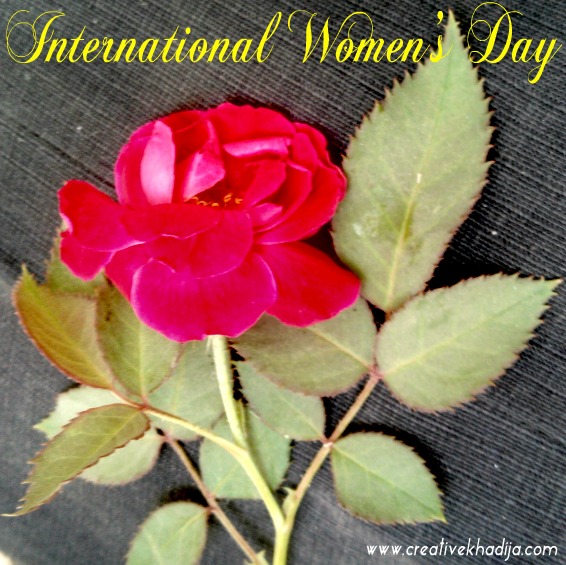 My mother is not too old, Just started her 60s but as she is a cardiac patient & having joints pain issue, so she is not active in any social activities or outing etc. She enjoys her daily life with her two little grand daughters who used to love her & play with her most of their time. What a perfect age group to play with..hehe
She is doing well Alhamdulillah, But it would be so nice of you if you will always remember her in your sweet & precious prayers! May She live long & healthy life always.
My Mom is my women & I am celebrating her day.. That's it. Hahaha. I am Proud to be a women & even more proud to be daughter of a wonderful women. I specially love my smart Father for marring my sweet Mother, So I get the best women in my life. Alhamdulillah for a super sweet family. <3
I hope you don't mind my random fun ramblings, Now time to sign off from today's random article.
Have a great day!
Stay awesome my dear women across the globe :)
Thank You
Khadija ~