Hadees
Hadees Nabvi Of The Day-Happy Friday
Alhamdu'lillah for a beautiful day, It's Friday & a rainy day! The most pleasant weather.  How nice is this rain while winter is almost going. I know many people do not usually enjoy the rain for many reasons but I like it. It's a blessing of Almighty & the word usually used for this is Baraan-e-Rehmat. In my previous article I share about my Mother's Birthday and it was at 8th March, International women's Day! Thanks for wishing my sweet mother, She said thanks to all :) I thought to share something related Women's Rank In Islam. Today I am going to share a beautiful Hadees Nabvi SAWW & it's about the dignity of a Mother.
Hadees Nabvi Of The Day-Happy Friday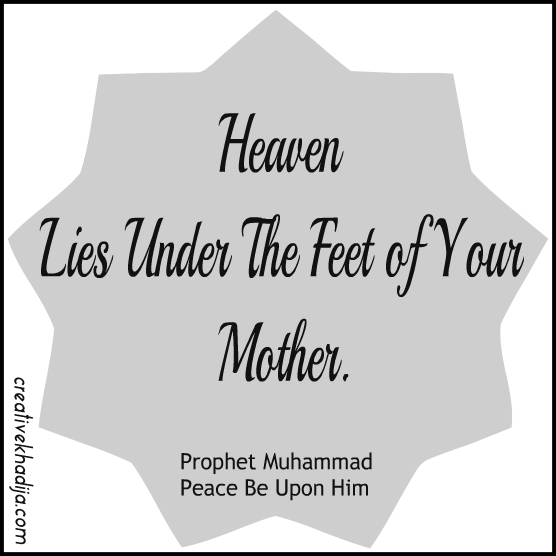 A mother rank is great according to Islamic point of view. Even it's said Heaven lies under the feet of your mother. It means if your mother is happy because of you & your behavior or deeds, You will be blessed with heaven. Sometimes God make the world heaven for those who treat well with their parents & respect their elders. With the prayers of elders & your parents, God Almighty always bless you more in this world & the hereafter.
So if you are preparing well for the day of judgement, Be sure to behave well and respect your mother. If she is happy then definitely your life here & hereafter will be successful.
A women's place in Islam is really great. When she is a daughter, She opens a door of Jannah for her father. When she is a wife, She completes half of the deen for her husband. when she is a mother, Jannah lies under her feet.
Proud to be a women! Alhamdulillah <3
I hope you liked Hadees Nabvi Of The Day-Happy Friday. Juma Mubarak.
Have a blessed day.
Thank You.
Khadija ~