Hadees
Hadees-e-Nabvi saww Of The Day
Assalam Alaikum Everyone,
How is the month of Ramadan Kareem going? Alhamdulillah mine is going great. I hope you are doing well & collecting the blessing of this holy month of Ramadan. Summer season is at it's peak in most of the countries. Specially in Asia & Middle East countries. But in the Europe where weather is around 15c to 20c duration of fast is even longer. As I have friends from all over the world & while discussing the duration of the sunrise & sunset, I think I am the one with short duration fasting as compared to my friends abroad.
Fasting duration is long in the European countries & I can see my friends are keeping their fast nicely MashaAllah. It's not easy to fast from 2:30 am to 11 pm for the whole month. Even in USA, Weather is hotter & duration is even more than ours. Here in Pakistan duration of the fast in my city is 3:15 am to 7:15 pm.(sunrise to sunset) Weather is 43c approximately.
First ashra(ten days) of Ramadan passed & two more ashra left behind. Collect as many blessing as you can. Today I am sharing another beautiful Hadees-e-Nabvi saww with my dear readers. Have a look here :
Hadees-e-Nabvi saww Of The Day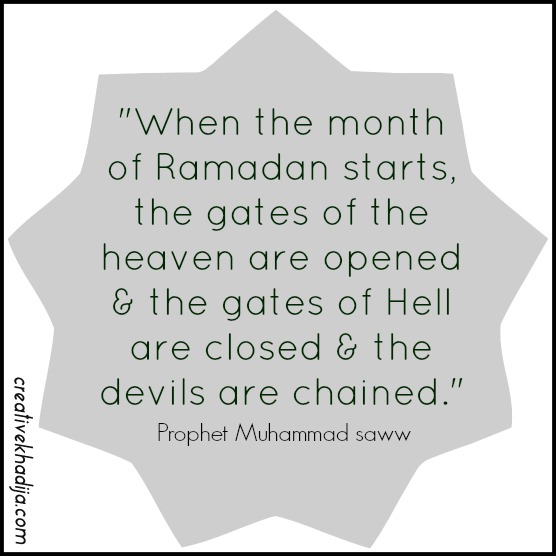 The Messenger of Allah (saw) said, "When the month of Ramadan starts, the gates of the heaven are opened and the gates of Hell are closed and the devils are chained." (Imam Bukhari)
Doors of heaven are opened for us, Collect the blessing & pray to Almighty Allah for the forgiveness of all the conditional or unconditional sins. He is very generous, He will forgive all the sins & will shower His endless blessings upon all of us. Hell doors are closed for a month & devils are chained. You are safe & protected. Keep your intentions pure & good. Recite & Pray more. Help others, Give & forgive others. Feed the poor & guide the orphan & helpless. Every small deed will count bigger during the holy month of Ramadan. So try your best to collect the blessings as many as you can.
And keep me remember in your precious prayers as well. I hope your Ramadan month will be filled with blessings.
Peace & Prayers..
Khadija ~