Hadees
Holy Hadees Of The Day-Jummah Mubarak
Alhamdulillah for another beautiful Friday. I wish you all a very happy, successful, safe and blessed Jummah Mubarak. I hope you are having a good day. I am going to share another Holy Hadees Of The Day.
Islam is a religion of peace & love. Our Prophet Muhammad SAWW is the last messenger of Almighty Allah. His teachings are lightening the path of our life. By following His words, We can be blessed in this world & hereafter too. In sha Allah.
Holy Hadees Of The Day-Jummah Mubarak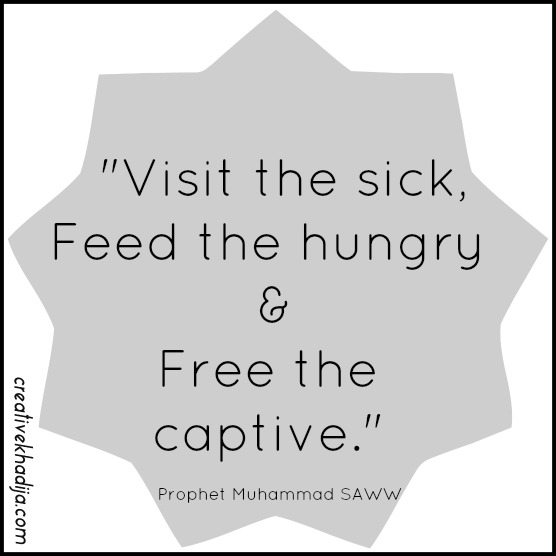 Prophet Muhammad Saww guide us the complete code of life. Islam is a complete religion & in Islam we have our Prophet's teachings for every matter in life. In this holy Hadees, Prophet Muhammad SAWW is teaching us to visit the sick. When we visit a sick person, We have chit chat & discuss things with a sick person, This simply feel the sick person good & He/She forget about the situation & feel fresh. Have you ever noticed this? Feeding the hungry is also important. Feed the hungry people & provide food to those who are needy. Every bite will be increasing your ranks & Almighty will be giving you reward InshaAllah. Here general spirit is to fight against hunger in society. Free the Captive is also important. There might be someone who is captivated for no reason & if someone knows that kind of person, You should help them in making them free from the prison.
Every little good deed is a blessing. God Almighty is very generous & always ready to reward us good. So never stop doing good deeds for others. Be sure to keep your intentions sincere. Be grateful for every blessing!
Have a wonderful Friday. May Allah Almighty shower His blessings upon you!
Khadija ~