Hadees
Hadees Nabvi saww of the day
Juma Mubarak-Happy Friday Everyone! I hope your day will be blessed & filled with lots of happiness. I am going to share another Hadees Nabvi saww of the day. This beautiful Hadees Mubarak is about Kindness. According to Islamic teachings we should be kind to EVERYONE! It doesn't matter if there is any human or animal or bird. From kids to adults & old people as well as a poor person to rich one. There should be no compulsion to be kind with the one you know or you don't know. Be kind to all.
Hadees Nabvi saww of the day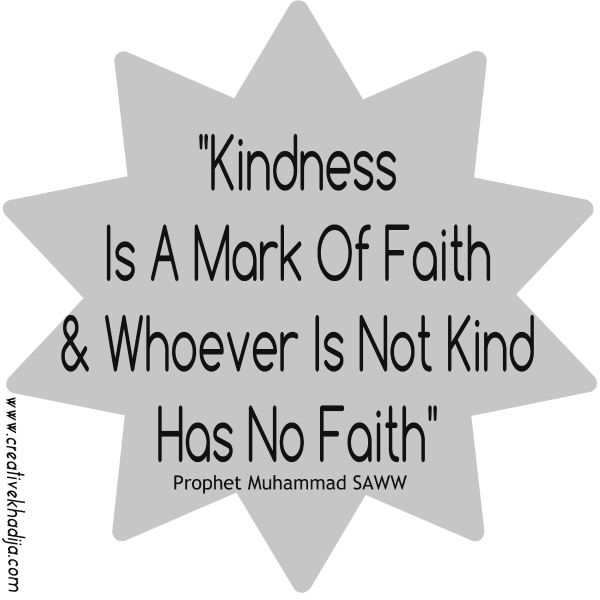 Kindness is a mark of faith & whoever is not kind has no faith. (Prophet Muhammad Saww – Muslim)
Kindness is the best way to purify yourself from rudeness. Kindness can make our hearts soft & pure. Don't behave harsh with anyone in your conversation & acts. Always try to be polite with everyone. If you will speak harsh to a kid, He/She will get scared. If you will be harsh to any poor person, This will hurt their self esteem. If you are harsh to any old or handicap person, You never know how much they will feel helpless. So try to save your faith & protect it with the acts of kindness & kind intentions.
You never know if you will be the one who is facing this harsh behavior of others, In our life, We have to feel sick sometimes & we can be helpless that moment. We will get old one day & we never know what we will be facing if today we are misbehaving or hurting someone. Do not forget this power & strength being youngsters is temporary! But kindness will remain in several ways. As the Karma always works! If you are kind to your elders, One day when you will get old, Your youngsters will behave good with you Definitely!
Always Always Always stay away from behaving harsh & rude. Otherwise you will have to face the Karma one day! (As in simple words we can say Mukafaat-e-Amal in Urdu language)
Islam is a complete code of life, We can get instructions about every part of our life. Kindness can be the best part of your personality. Be sure to wear this jewel always & this will make you more pretty than ever before.
Have a blessed Friday Everyone!
Khadija ~
Creative Khadija
I am Khadija Kiran, A girl blogger, content creator & digital marketer. I started this blog in 2010. It's pleasure sharing interesting stuff related art, fashion, food and lifestyle. You can enjoy my 350+ DIYs on this blog. I also sell my handmade art work. Stay tuned to see more!