DIY
NFAK Pop Art Abstract Wall Art DIY-Part Two
Happy Weekend Friends, Thanks for appreciating my Abstract WallArt Part One, I am going to share the second part today! Are you a fan of Nusrat Fateh Ali Khan? One of the best singer of Asia no doubt. According to Wikipedia "Nusrat Fateh Ali Khan was a Pakistani musician, primarily a singer of Qawwali, the devotional music of the Sufis. Considered one of the greatest voices ever recorded. He possessed an extraordinary range of vocal abilities & could perform at a high level of intensity for several hours. Extending the 600-year old Qawwali tradition of his family. Khan is widely credited with introducing Qawwali music to international audiences. He is popularly known as "Shahenshah-e-Qawwali", meaning "The King of Kings of Qawwali"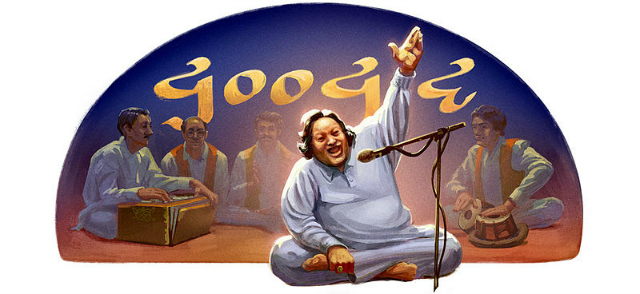 This is how Google gave tribute to NFAK on His 67th birthday recently.
Today I am going to share an abstract art project which I recently designed for a friend. She is a BIG fan of Nusrat Fateh Ali Khan's music. She says "For every emotional breakdown, there is a relate able NFAK qawwali". As She listen NFAK music most of the time & everyday, So I thought to design a wall art with her favorite qawwali lyrics on it for her. Let's have a look how I design it.
NFAK Pop Art Abstract Wall Art DIY-Part Two
In my previous post, I shared an art project which was a free hand lettering abstract all art with "Stay Positive" theme. I am glad to see your positive response about that. As I promised about sharing the part two of the project, So today I am sharing another colorful abstract wall art DIY with a different theme. Let's have a look now!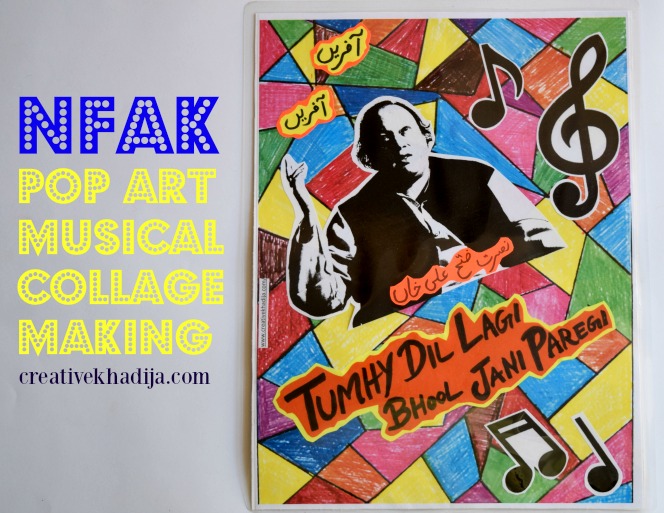 Nusrat Fateh Ali Khan's musical theme & truck art inspired colors wall art. Isn't it cool? Let's have a look how I made this creative wall art.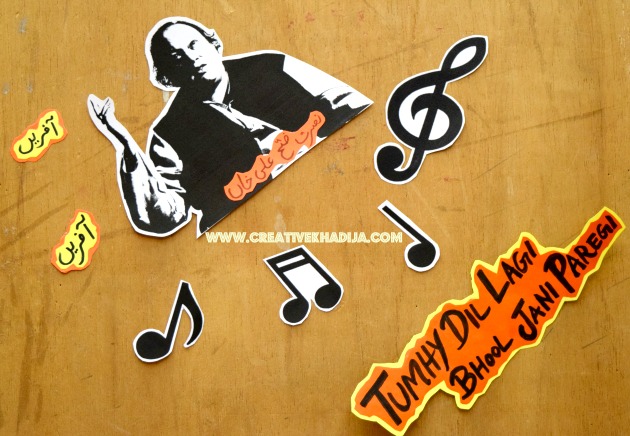 For making this wall art, You will need :
A laser-jet color printer for printing the background & signs. If you are good & can paint/draw, then you can do it all yourself without printer.
Colorful prints 12″x18″as a background sheet. I painted this abstract colorful sheet, You can also buy these printed sheets from me.
Some prints of black & white musical signs & portrait picture of NFAK,
Scissors, Glue & Markers.
How To Make :
Print out the colorful sheet & the black & white one! Cut the musical signs carefully. Write some of the song lyrics & cut those too. I prefer not to print those song lyrics out & they are written freehand by me. (Song lyrics – Tumhy Dil Lagi Bhool Jani Paregi)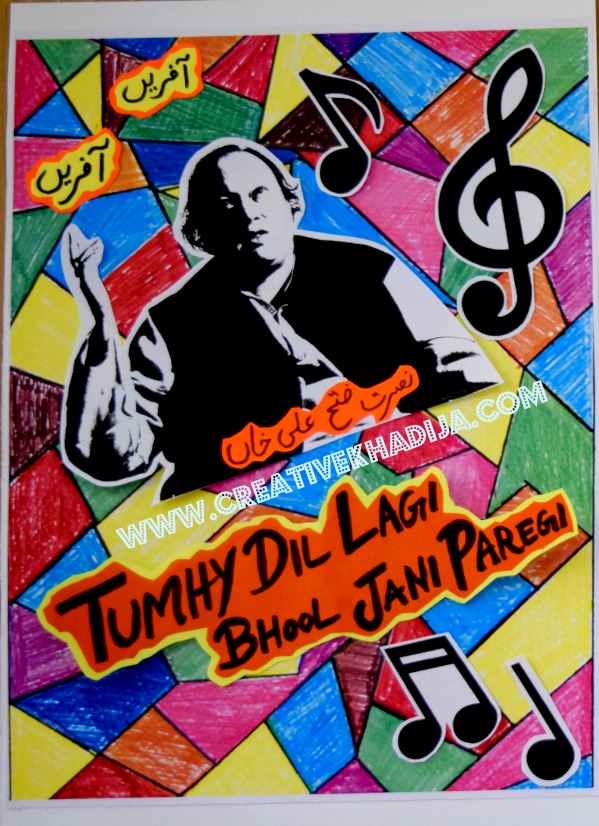 Arrange those first on the colorful sheet & see if they position well on the colorful background sheet. You can change the position according to your art size & position.
Paste the signs & portrait picture of NFAK. I wrote some popular lines of His songs & make it more musical. If you think it's a thin sheet & glue is making stretch then you can paste the printed sheet on a canson sheet. So a thick layer of sheet will make it more fixed & stable. With a thick sheet backside, This will not bend easily.
Let it fix under two books & after a couple hours, your art is okay! You can now frame it. Or use any transparent lamination if you want.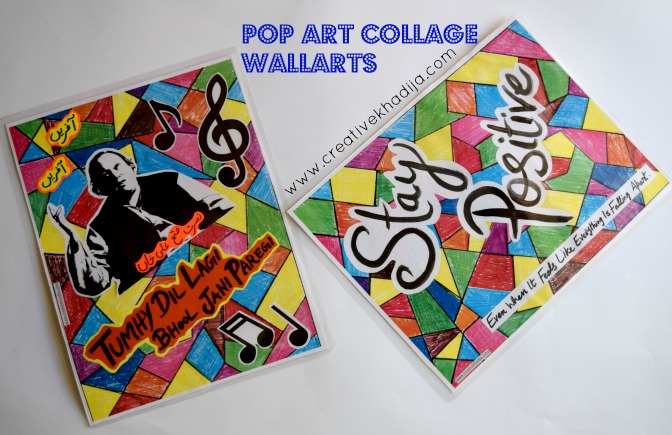 It's ready after laminated cover!! How is it looking? You can see my other wall art as well as recent one. My client liked the "Stay Positive" wall art & my friend liked NFAK art gift I made for her. And guess what? I am happy to see others happy! Yay!!
I hope you liked this NFAK Pop Art Abstract Wall Art DIY-Part Two. Let me know which one you liked most. If you want to buy any of these or any similar wall art with any quote, image or typography, You can contact to buy from me. I am shipping worldwide.
You can also check tutorials of my other Wall Arts. If you want to buy any, Feel free to contact for collaborations & queries. Have a look at my online shop as well.
Here is a link to NFAK Qawwali which is mentioned on the wall art. I hope my readers who can not understand Urdu language will like the music. Let me know if you liked it.
Have a great weekend everyone. Wish you all a very lovely day!

Thank You!
Khadija ~