For Sale
Islamic Glass Painting Calligraphy WallArt-Juma Mubarak
Happy Friday! A sigh of relief finally. My weekend just started a bit earlier today because I am almost done with all of my on going projects. Alhamdulillah. I will share further updates about in coming blog posts. Today I am going to share one of my recent project I design for a client. It's Islamic Glass Painting Calligraphy WallArt. Do you remember my previous glass painting wall arts? They are one of my most selling art pieces. So have a look at the recent one I am sharing today, I hope you will like it. Juma Mubarak
Islamic calligraphy of Holy Verse of Al-Quran Bismillah. Meaning of this verse is "In The Name of Allah, The Most Beneficent, The Most Merciful".
I completed this wall art in three days, As I was busy with some other projects too, So this time my sis helped me a little in drawing this floral border, As her Mehndi-Henna tattoo skills are so good, So I thought to ask her if she can draw with a glass paint led. She did great job, Isn't it? I treat her with a pizza in return of this drawing work. We had fun making this project together.
If you are following me on Instagram & Snapchat, You can see work in progress glimpse there too.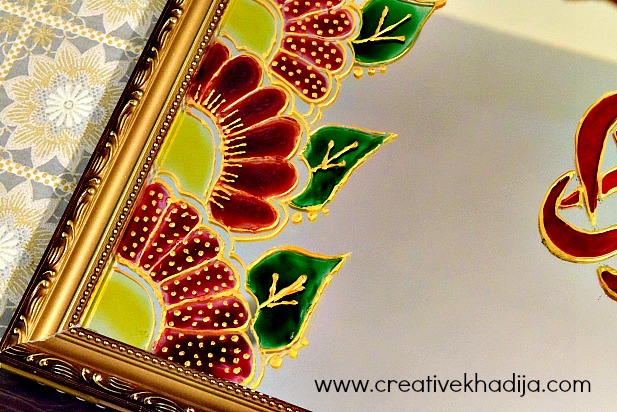 Here is a close up. These dots making was not an easy job though. My thumb hurt when I completed this dots filling in the flower petals.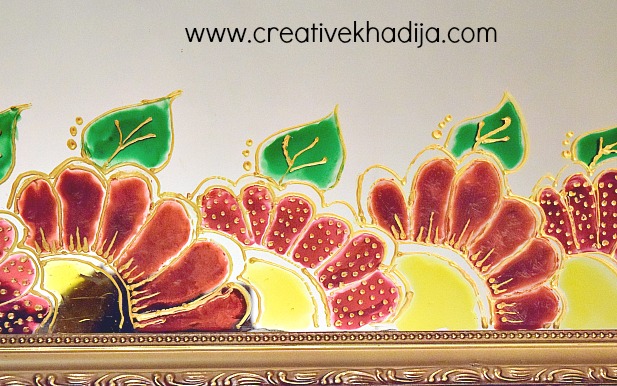 Don't spot me in the mirror. You will only find my camera lens there. :p hehe
Taking a mirror photo is always challenging for me. But this time again I captured it somehow. I placed this wall art (20″x26″ in size) on our dining table & by standing on dining table chair weirdly, It was taken! Shhh.. Who knows? Don't tell anyone until I do. haha.
Okay, Too much gossip, Now let's talk about it's making now!
For making this glass paint wall art, you will need to frame a piece of mirror first.
Draw or trace any design you want to paint. If you are good enough to draw freehand, You can also try that.
Make an outline of the design with led out-liner. Let it dry for an hour and then fill it with glass paint colors.
I have used here : Gold color led liner, Red, Pink, Yellow & Green color transparent glass paint colors.
You can not find pink color here properly, Because pink was just like red, I thought this will change its color after getting dry but it didn't. So I filled the pink shade petals with golden dots just to make difference. Otherwise it wasn't going well.
After applying color, You can refill or outline again if any line or stroke is overlapped by paint.
Let it dry for a few hours & it's ready for packing or hanging on your wall!
Are you confused about any step of this wall art making. Check my Glass Painting Tutorials to find more step by step tutorials.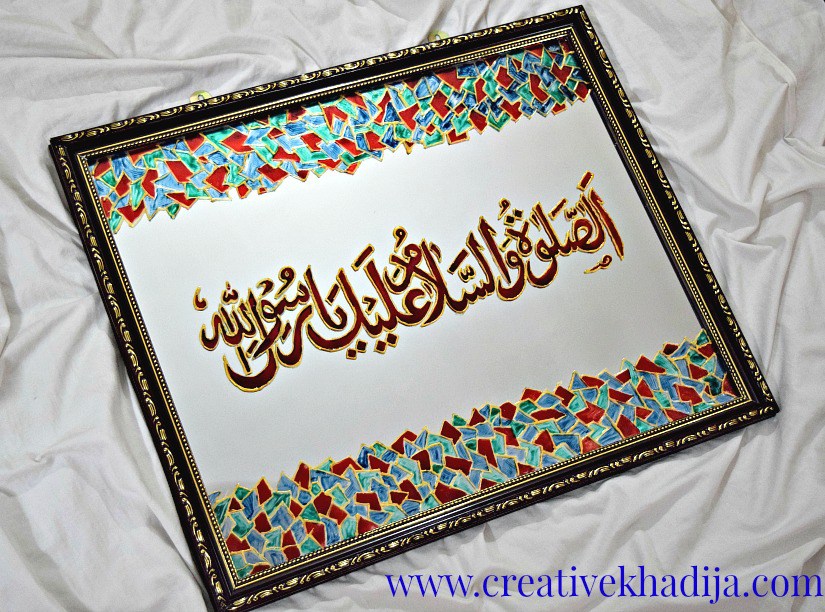 This is one of my favorite glass paint wall art I made few month back.
If you have any question in your mind, Feel free to write me. Drop your queries in the comment section or write me via Contact Form.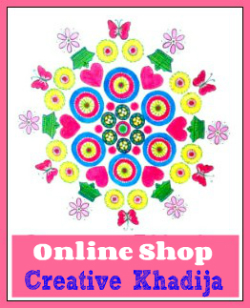 If you want to buy any of my glass painting wall art for gifting your family or friends, You can place an order. I can customize with your suggested colors or writing calligraphy or Holy Verse. Feel free to contact.
Have a great Friday! Wishing you all the best & a lovely weekend. Don't forget to share your feedback.
Thank You
Khadija