Guest Post
How to Choose Wall Paint According to Your Walls
Changing the look of a room or the front of your house is only a few coats of paint away. What is wonderful is that for a few dollars invested in paint and some elbow grease, you can revitalise your home in no time. Choose a color you like or consult a paint specialist or designer to help you with your choice. Depending on the surface you are refinishing and whether it is inside or outside will have a significant impact on your choice of finish and the type of paint you should use.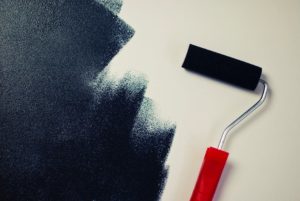 How to Choose Wall Paint According to Your Walls
Let us start with interior walls. Drywall is the easiest surface to cover. Unless there are holes to fix, it simply needs primer and paint, preferably two coats. Wood is the next easiest medium. It requires a little sanding to ensure the surface is completely smooth, followed by thorough dusting. The rest is typical, apply primer, let it dry and roll on a few coats of paint. Plastic and ceramic surfaces will require similar treatment. First, you must send the surface, then wash it thoroughly with a TSP cleaner or something that does not leave a soapy residue. Then, you are ready to apply primer and paint. Acrylic material is recommended for these two types of surfaces.
Now moving onto the exterior of your house. Wood continues to be the easiest surface to cover. If your house is vinyl, avoid painting it; the results are not worth the effort. For metal, the process is similar to that of plastic or ceramic. You must first sand, then rinse, dust and prime before you can paint. It is not overly difficult, but it is time consuming. If the exterior of your house is brick, take your time before committing to paint. Once it is done, there is no coming back. Paint does not come off brick easily. If this is what your heart desire, then go ahead. It will not be too long. Begin with a nice washing of your walls, avoid pressure washer as they damage grouts. Let the brick dry for at least two days before your prime and paint. You can use rollers for brick, but you will need a brush for the grout and little crevasses.
The most time-consuming surface to cover is concrete. If you know that there is significant moisture coming out of your concrete surface, forget painting it, it will not stick. Instead, consider concrete coating, a wonderful solution that comes in a variety of colour and is long-lasting.
If you have your mind set on painting your concrete wall, you need to know that this process will take at least a week and that is if the weather cooperates. Your first step will be to clean the concrete, making sure all stains are eradicated. Next, if there was old paint, you will need to peel or scrape it off. Painting over is not an option. Following that step, you must seal the concrete to prevent it from absorbing too much paint or letting out moisture. Once this step is complete, you are ready for your first coat of primer. You will have to wait for the primer to be completely dry before you put on the first coat of paint.
This is, you are done! Take a step back and admire your work. With a little money and some time, you have given your house an amazing face-lift!
P.S – This submitted guest post contains affiliate link. Thank you for your support.